A blood cancer survivor shares how precision medicine is saving lives like his
As a father of two with an active lifestyle, David was surprised when he started experiencing bloating, nausea and fatigue.
4 min. read
Every day, cancer research is helping us understand more about what causes cancer, how it develops, how to prevent it, how best to treat it and how to improve the quality of life for people living with and beyond cancer.
Thanks to research, more Canadians are surviving a cancer diagnosis than ever before. According to the Canadian Cancer Statistics 2019 report, 63% of Canadians diagnosed with cancer will survive at least 5 years after their diagnosis – up from 55% in the early 1990s. Notably, of the 23 cancers studied in the report, almost all were shown to have better survival now than in the early 1990s with blood cancers showing the most dramatic increases.
Research advancements in the area of precision medicine, which is a treatment approach that uses specific information about a person's genes, lifestyle or environment to prevent, diagnose and treat cancers in the most effective way, have led to many successes for Canadians affected by cancer – especially those faced with blood cancer like David.
David's story @(Model.HeadingTag)>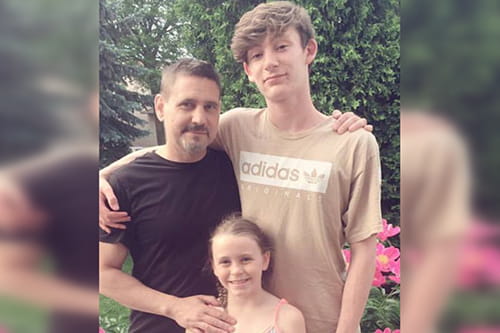 As a father of two with an active lifestyle, David was surprised when he started experiencing bloating, nausea and fatigue.
His family doctor thought his symptoms could be related to diet or stress. However, as the symptoms worsened and became more frequent, David had a feeling that it was a sign of something more serious and requested an ultrasound.
"I knew I had cancer at that point," shares David. "I just didn't know what type."
The ultrasound revealed a grapefruit-sized tumour on his spleen and another one growing on his spine. His worst fear came true and at 46 years old, he was diagnosed with stage 4B non-Hodgkin lymphoma.
Following the diagnosis, David received a total of 26 rounds of chemotherapy and 20 rounds of radiation to treat his cancer. The following year, he was confident that he was in full remission but unfortunately, the cancer came back and was even more aggressive.
"I was devastated," shares David.
A race against time @(Model.HeadingTag)>
Faced with cancer for a second time, David's doctors told him he only had 3 weeks to live unless he had a stem cell transplant.
This type of precision medicine is used when stem cells or bone marrow have been damaged or destroyed by cancer, or by high doses of chemotherapy or radiation therapy used to treat cancer. In a stem cell transplant, healthy stem cells are placed in your body to help your bone marrow start to work properly – making new, healthy blood cells.
David needed a donor but finding a match can be a difficult and lengthy process. Most matches are made through a biological family member but because David was adopted, he didn't know much about his biological family history. Given that time was ticking as they searched for a match, David underwent a stem cell transplant using stem cells from his own bone marrow to buy him more time.
It took three months, but they were able to find a donor that matched. David had his second transplant using stem cells from the donor and it was a success. He has been in remission ever since.
"When you hear that you only have 3 weeks to live, it's a race against time," David explains. "If the process of finding a matched stem cell donor was faster, I wouldn't have had to go through two stem cell transplants. One stem cell transplant is hard enough on the body but I still feel fortunate that I was able to find a match before it was too late."
Life-saving impact of precision medicine @(Model.HeadingTag)>
Precision medicine is taking cancer treatment to an entirely new and different level. While it's currently being used to treat many different types of cancer, it has shown particularly remarkable success for blood cancers. This has led to significant progress in survival for blood cancers.
"Precision medicine like stem cell transplants is now an option for those of us where all the other conventional treatments have failed. It gives us hope," says David. "Thanks to the stem cell transplants I received, I will be here to watch my kids grow up."
---
Over the last 15 years, the Canadian Cancer Society has invested almost $28 million in precision medicine research. With further investments, we can help more Canadians affected by cancer – like David – live long, healthy lives.
Every day, we are moving closer to a day where no Canadian fears cancer. But, with nearly 1 in 2 Canadians expected to be diagnosed with cancer in their lifetime, there's more to be done. Show your support and help more Canadians survive a cancer diagnosis and thrive long after. Together, we can be a force-for-life in the face of cancer.