Some forty pioneers in artificial intelligence (AI) and oncology are forming a new network of experts committed to accelerating the integration of AI into cancer care.
2 min. read
The Canadian Cancer Society and the CHUM School of Artificial Intelligence in Healthcare held the "AI-Oncology Training Day: share your knowledge with impact!" this past November 9, following an international Symposium about AI in healthcare. A community of ambassadors, made up of some forty specialists in AI and oncology, was launched on this occasion: a first in Quebec in this cutting-edge field!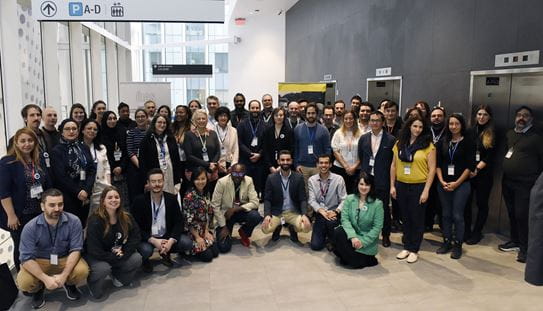 This new network for sharing best practices stimulates collaboration and knowledge transfer between researchers, clinicians, entrepreneurs, and patient partners and allows them to work together to integrate AI into cancer care. It is also an opportunity to enrich the guide mapping AI and oncology projects in Quebec* launched in spring 2023, and to promote a growing innovation ecosystem in Quebec.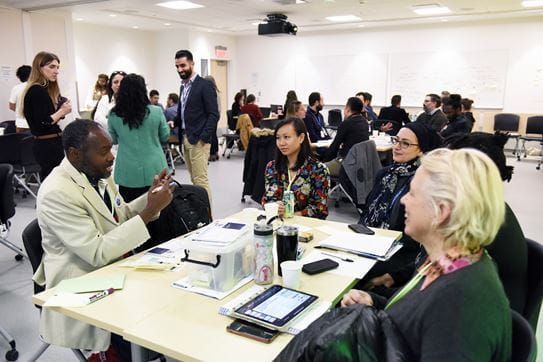 AI within the reach of people and cancer care @(Model.HeadingTag)>
AI's potential in oncology is huge, especially in terms of cancer prevention and detection and the personalization of cancer treatments. AI can improve the efficiency and quality of care and increase our odds of saving lives. At the Canadian Cancer Society, we invest in cutting-edge research to stimulate innovations for the benefit of people with cancer and their loved ones. In 2022-2023, we invested $50.1 million in research projects, including $7.2 million in Quebec.
However, to integrate these technologies into care pathways, it is essential that people understand AI and what it can concretely change in the oncology field. In 2020, we began working with the CHUM School of Artificial Intelligence in Healthcare to give healthcare professionals and people living with cancer the tools they need to use AI in healthcare. We created a series of training courses, as well as an educational kit* and a podcast* with testimonials. We are currently developing a learning pathway for AI experts in oncology so they can hone their ability to pass on their know-how to their peers, to medical teams, and to people living with cancer. Involving all these stakeholders is essential to develop and implement solutions that are focused on people and adapted to the needs of healthcare professionals.
As part of this program, a series of meetings will be held to strengthen know-how in AI and oncology in Quebec. A new Projects Guide will also be released this winter.
Stay tuned for the latest on this project and the pioneering solutions being developed by our experts!
*Available only in French