Inaugural CCS Accelerator Grants bring research discoveries to people affected by cancer, faster.
2 min. read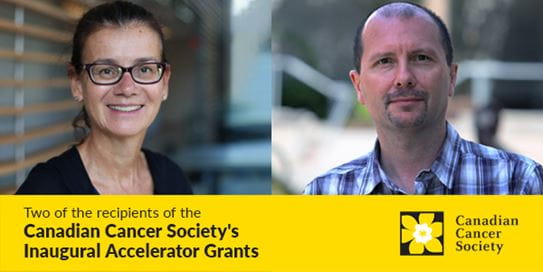 Cancer researchers in Canada are making important discoveries that have the potential to save and improve lives, but moving these findings into clinical practice takes time. To help people with cancer benefit from research discoveries sooner, the Canadian Cancer Society (CCS) recently awarded close to $2 million to 13 research teams through our inaugural Accelerator Grants program.
CCS Accelerator Grants support projects that aim to fast-track the implementation of research-generated evidence by identifying and filling in critical gaps and expediting the use of new knowledge. These grants were co-created, reviewed and selected by a diverse group of researchers, patient partners and other stakeholders with research, lived and healthcare delivery and policy experience. Together, this group helped ensure each funded project is relevant to people with cancer, feasible to implement and highly likely to improve cancer care.
One such project, led by Dr Harriet Feilotter at Queen's University, aspires to put research on cancer biomarkers into practice faster through new infrastructure that will improve the sharing of information between research labs and healthcare settings.
A cancer biomarker is a molecule found in the body that indicates the presence of cancer. Biomarkers provide valuable information that can be used to assess cancer risk, diagnose cancer, and predict and monitor how a person will respond to treatment. Currently, however, there is no standardized way for researchers to store and share information about cancer biomarkers discovered in Canada. With funding from CCS, Dr Feilotter is working to fill this gap by creating a national system that will simplify and speed up the sharing of this important information between researchers and clinical doctors.
"Making that process easier, more transparent and standardized so that every cancer patient benefits from good research is my passion. It's what drives me," says Dr Feilotter.
If successful, Dr Feilotter's work will bring us one step closer to improving treatment outcomes and saving the lives of people with cancer.
Another Accelerator project, led by Dr Trevor Dummer from the University of British Columbia, is hoping to help create cancer prevention approaches that are inclusive of gender-diverse communities.
Current cancer prevention strategies don't adequately address the distinct needs of gender-diverse people, such as transgender and non-binary people, who may be at a higher risk of cancer. For example, lack of inclusive policies or programs can lower cancer screening rates, and stigma and discrimination may have an effect on alcohol and tobacco use. With support from CCS, Dr Dummer and his team are reviewing existing prevention policies and programs to identify gaps and develop best practices and recommendations that reflect the unique needs of this community.
"Cancer prevention is not one-size-fits-all," says Dr Dummer. "To ensure this important work has far-reaching impact, we need to understand the opportunities and needs of all individuals and develop inclusive policies and practices."
Thanks to the support of our donors, CCS Accelerator Grants are putting people at their core and driving progress that can transform the future of cancer. For results of the 2022 Accelerator Grants Competition, including full project abstracts and summaries, visit cancer.ca.