Marie-Noëlle shares how volunteering for the CIBC Run for the Cure reignited her life's mission to make a meaningful difference in the lives of people with cancer.
2 min. read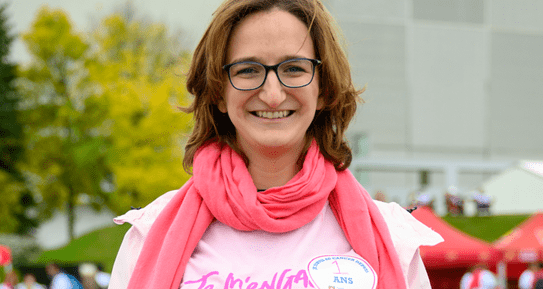 For more than 27 years, the Canadian Cancer Society (CCS) CIBC Run for the Cure has united thousands of volunteers from coast to coast to coast who are committed to changing the future of breast cancer forever. It's because of their caring spirit and heartfelt determination that CCS has been able to invest in life-saving breast cancer research. Together, we've contributed to significant improvements in the way breast cancer is being prevented, detected, diagnosed and treated.
One passionate volunteer who has helped to make a difference is Marie-Noëlle Séguin Grignon. In 2017, 30-year-old Ph.D. student Marie-Noëlle was diagnosed with stage 3 breast cancer and put her dreams of becoming a researcher and starting a family on hold to undergo 2 years of chemotherapy treatment. During her recovery, Marie-Noëlle decided to sign up as a volunteer coordinator for the CIBC Run for the Cure event in Montreal.
"I attended several meetings where volunteers and employees joined efforts and worked to make the day a unifying and inclusive event," says Marie-Noëlle. "What I really enjoyed during these meetings was the respect and collaboration among its members. I volunteered the first year after I had been diagnosed with cancer, and the committee welcomed me wholeheartedly. They encouraged me to just be me - the new self I met after cancer that I am so proud of today." 
Marie-Noëlle found her experience volunteering for the Run to be inspiring and fulfilling, as it gave her life purpose and provided her the opportunity to make a meaningful difference in the lives of people with cancer.
"Volunteering for CCS was rewarding in more ways than I could ever have imagined," says Marie-Noëlle. "It allowed me to meet amazing people and to reignite my life mission at a time when I couldn't accomplish it through work."
For people who haven't volunteered for the CIBC Run for the Cure before but are considering getting involved, Marie-Noëlle says volunteering either on Run Day or leading up to the event can make a difference. 
"There is no help that is too small. A simple word, or even a simple smile from a volunteer can bring people with breast cancer encouragement and empowerment that can bring life to their day."  
This year, the CIBC Run for the Cure is taking place in over 50 communities across Canada on Sunday, October 1. Interested in volunteering for this year's event? Look for your location on our volunteer page.