First-hand experience brings a valuable perspective to research decisions.
1 min. read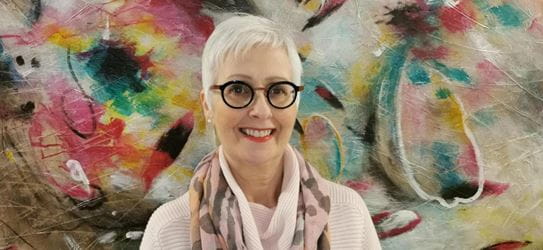 Sylvie Desmarais's breast cancer journey started in 2019, but her commitment to supporting lifesaving cancer research is just beginning. That's because Sylvie is one of more than 80
patient partners
– cancer survivors who play a very important role in helping the Canadian Cancer Society (CCS) decide on the most promising research to fund.
To select research projects with the greatest potential for impact, CCS uses a gold-standard peer review process led by the expertise of the best cancer researchers from Canada and around the world. But we also rely on another type of expert: breast cancer patients like Sylvie, whose perspective helps to maximize the impact and relevance of the breast cancer research we fund.
"In November 2019, I was diagnosed with metastatic breast cancer," says Sylvie. "It was truly a bombshell since I had no symptoms or risk factors that hinted at such a diagnosis. Although breast cancer research has made great strides in treatment, too many women are confronted, as I was, with incurable breast cancer upon diagnosis."
After the shock of the diagnosis and the beginning of treatments, Sylvie wanted to support other women and also contribute to the advancement of breast cancer research and treatment.
"Patients' experiences with the disease and their treatment are a rich complement to the scientific and contextual data on breast cancer," Sylvie explains. "This is why I want to bring my voice and that of the patients to improve their participation in clinical trials, to support hope and the arrival of new treatments."
"For me, research is the road to hope," Sylvie continues. "The advances in research made possible by donations encourage me to keep going. Thank you for being there, for being an ally for research!"