After 2 years away Batting Against Breast Cancer knocks its comeback out of the park and breaks its fundraising goals.
2 min. read
Batting Against Breast Cancer is a family friendly fundraising event based out of Airdrie and Edmonton Alberta. The volunteer driven 1-day slo-pitch tournament gives members of their community the opportunity to step up to the plate and help change the future of breast cancer in Canada.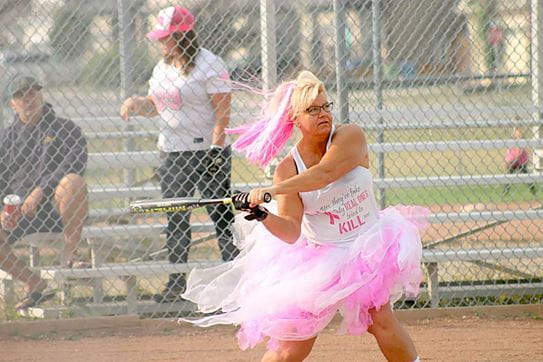 This year Batting Against Cancer was happy to once again be joined by Mattamy Homes as the title sponsor of the event. "Being part of this long-standing community fundraising initiative really hits home for our team," said Collin Campbell, President of Mattamy's Alberta Division. "It's an opportunity to bring together our team for a friendly competition but most importantly, raise awareness and critical funds needed to make life better for those affected by breast cancer. Hosting the event in one of our communities, where many of our customers call home, makes it that much more special to us."

After having to take a multiple year break, the Batting Against Breast Cancer teams didn't know what to expect with their return, but for Airdrie in particular, not only were they able to bring their community together, but they also shattered their previous records and fundraising goals. This year's event broke their 2019 record for in-person fundraising and thanks to the support and hard work of the committee, volunteers and participants Batting Against Breast Cancer has now surpassed over a million dollars raised in total, a dream the organizers have had since their first event in 2009. Many thanks to the survivor speaker, Diane Martin, and all the teams for these efforts to change the future of breast cancer in Canada, especially the top fundraising individuals this year:
Ryan Preston over $8.3K raised, Lisa Douglas over $5.4K raised and Barb Long at almost $2.8K raised this year!

"When we started this process back in the spring, we didn't know how it would turn out—we set the goal then went for it anyway! Sponsors returned and players returned, and both came out swinging," said Batting Against Breast Cancer Airdrie interim-chair, Heather Kostuk. "Community is what we make it and by rallying around an important cause such as breast cancer research and support, community is built— this was really evident by the efforts everyone made for the event this year!"

That same spirit and raising of funds and awareness was also felt in Edmonton. Although they didn't surpass their goal this year, since 2004 the teams and community have raised an incredible lifetime total of over $2.3 million for the breast cancer cause!

Independent and community driven events like Batting Against Breast Cancer make a huge difference by funding groundbreaking cancer research and making it possible for the Canadian Cancer Society to provide critical support and information for Canadians impacted by cancer and their families. You can support events like Batting Against Cancer by donating to their event, or even start an event of your own.