Join us to provide hope to those impacted by cancer by signing up for Relay For Life.
2 min. read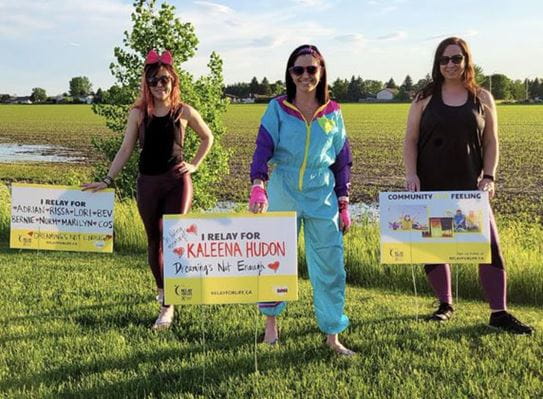 Now more than ever, it is important that we continue to take action to support people affected by cancer. That's why, on June 11, Relay For Life is uniting communities to help change the future of cancer.
For the first time in two years, we're thrilled to welcome back communities nationwide to the beloved in-person Relay experience. Wherever your Relay takes place, you'll be joining thousands of people coast-to-coast who have shown up to support their communities.
Fundraising for Relay For Life is the most impactful way for you to support the 2 in 5 Canadians expected to be diagnosed with cancer in their lifetime.
Keeping the dream alive by honouring the legacy of a friend
When Miriam Loewen's best friend Kaleena passed away in 2010 at the age of 26 from melanoma cancer, she chose to honour her friend by accepting the Relay For Life baton.
"Kaleena was like a sister to me and helped make so many positive changes in my life," says Miriam. "She taught me how necessary it is to live every day to its fullest. I joined Relay For Life to remember and celebrate Kaleena's life."
As a tribute to Kaleena, Miriam's Relay For Life team name is Dreamingsnotenough. "Dreaming's not enough" was Kaleena's mantra, which continues to inspire Miriam to actively pursue her own dreams. Miriam has participated at her local Relay event in Winnipeg for 11 years and has raised around $3,000 each year.
"Even though Kaleena didn't survive cancer, it warms my heart to see everyone who did year after year," says Miriam. "Originally, I was going to participate in Relay For Life for 10 years and then stop, but I just couldn't stop going."
Finding a legacy of community and connection
For Amanpreet Chana, navigating a thyroid cancer diagnosis at a young age while attending university and completing her studies was challenging.
"I had to grow up faster than most 16-year-olds," says Amanpreet. "My friends just didn't understand and didn't know what to say. In university, I wouldn't tell anyone about it."
Motivated to volunteer for other survivors like herself, Amanpreet began volunteering for the Relay event in Hamilton, Ontario, serving as the social media, communications and marketing lead. She was inspired to see the passion of everyone involved and, above all, she enjoyed the community the event gave her.
"I find volunteering at Relay fulfilling. It's about meeting people in the same situation and being able to relate to each other. I've met people of all ages and it's easy to chat, share and connect. It feels natural."
She encourages anyone considering volunteering and fundraising for Relay to go for it. "Donating your time is helpful; do whatever you can do."
Join us for Relay For Life on June 11 to move and be moved, and to provide hope to those impacted by cancer. Sign up today at relayforlife.ca.