Through the CDL Cancer program, we will drive research into practice and find new, innovative ways to take control of cancer.
2 min. read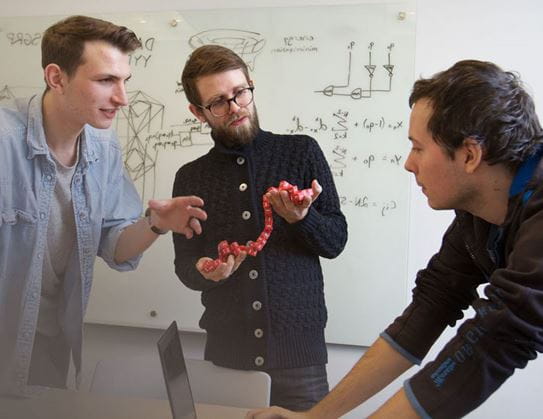 Every day, more than 600 Canadians are diagnosed with cancer and cancer continues to be the leading cause of death in the country. That's why we are proud to be a founding partner of CDL Cancer, which launched on April 12, 2022.
A new partnership between the Canadian Cancer Society and Creative Destruction Lab (CDL), CDL Cancer connects brilliant scientists who have game-changing ideas with the business mentors who can help bring those ideas to life. This first-of-its-kind partnership will compress the time it takes to bring innovations to people, ultimately improving the cancer experience globally.
CCS has a rich legacy of fueling discoveries that have improved how we prevent, diagnose, treat and live with and beyond cancer. But to drive real change for the 2 in 5 Canadians who will be diagnosed with cancer in their lifetime, we must accelerate progress.
"On average, it takes 14 years for research breakthroughs to be implemented in part because of a lack of connection between evidence producers and evidence users", says Andrea Seale, CEO, CCS. "We can save more lives faster, by accelerating the movement of cancer research discoveries to application, and by helping to bring the most promising solutions forward in prevention, diagnosis, treatment and survivorship to the people that need them most."
Founded in 2012 at the University of Toronto's Rotman School of Management, CDL is a non-profit organization that delivers an objectives-based program for massively scalable, seed-stage, science- and technology-based companies. Its 9-month program allows startup business owners to learn from experienced entrepreneurs and technical experts, increasing their likelihood of successful commercialization.
"This is a unique opportunity to impact the trajectory of technologies in prevention, early detection, and treatment, in support of Canadians impacted by cancer," says Sonia Sennik, Executive Director, CDL. "We are thrilled to welcome the Canadian Cancer Society to our global Creative Destruction Lab community."
This program will be a signature program of CCS's Centre for Cancer Prevention and Support. Through the Centre, CCS supports cancer prevention and survivorship researchers, works with partners to increase awareness of research, connects evidence producers with evidence users, and aims to spread and scale those innovations nationwide.
CDL offers business mentorship and technical guidance to founders and companies that are early in their lifecycle. Companies that graduate from the program are able to grow and scale much faster than the norm, and with greater success, as a result of the mentorship, network connections and investments gained from CDL.
This program reflects our belief that we can save more lives faster if we harness ideas, share expertise and deepen investments in pursuit of a common goal. To learn more about this innovative partnership, read our news release. You can support CDL Cancer by donating today at cancer.ca.