Congratulations to the winners of the Canadian Cancer Society's 2021 Awards for Excellence.
2 min. read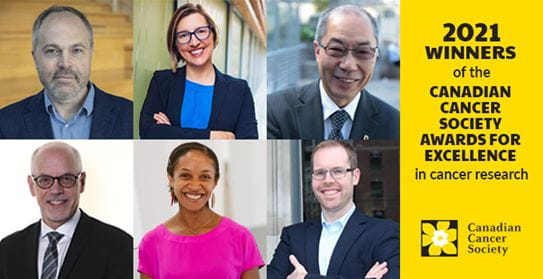 For nearly 3 decades, the Canadian Cancer Society Awards for Excellence have been awarded annually to some of the country's leading cancer researchers. The awards recognize remarkable scientists whose leadership and contributions have played an important role in advancing cancer research in Canada.

In addition to prizes that celebrate outstanding achievements in basic biomedical and cancer control research, there is also a prize that honours the lifetime contributions of an influential researcher and one that recognizes a researcher who has demonstrated leadership in the advancement of diversity, equity and inclusion across the cancer research ecosystem.

This month, the 6 winners of the 2021 awards were announced.

"We are proud to recognize the accomplishments of these extremely talented individuals who are driving significant progress and supporting the next generation of researchers," says Dr Stuart Edmonds, Executive Vice-President, Mission, Research & Advocacy at CCS. "Their work is not only saving and improving lives today, it's also transforming the future of cancer."

The following researchers were honoured:
Lifetime Contribution Prize: Over the course of his career, Dr Tak Mak's breakthrough discoveries have transformed our understanding of the immune system and paved the way for many of the life-saving immunotherapies and other novel therapeutic treatments available today.
Inclusive Excellence Prize: Dr Aisha Lofters is a leading researcher and mentor whose work is advancing health equity and improving cancer care for people who experience marginalization in Canada and internationally.
O. Harold Warwick Prize: Dr David Malkin is a leader in cancer genetics and pediatric cancer whose work has saved and improved the lives of children and young adults affected by cancer at home and around the world.
Robert L. Noble Prize: Dr Michael Taylor is a world-renowned expert on childhood brain cancer whose research has revolutionized our understanding of medulloblastoma, the most common malignant brain tumour in children.
Bernard and Francine Dorval Prize: Dr Trevor Pugh is a visionary and innovator in cancer genomics whose work harnesses new technological advancements to better understand cancer and improve care.
William E. Rawls Prize: Dr Robin Urquhart is an internationally recognized leader in cancer survivorship research whose work has impacted how cancer care is delivered and improved the experiences of patients and their families in Atlantic Canada and beyond.
To learn more about this year's winners and to support life-saving cancer research, visit
Awards for Excellence in cancer research
.