When Georgia needed to travel for breast cancer treatment, she found a "fun and welcoming" lodge that you enabled with your generosity.
1 min. read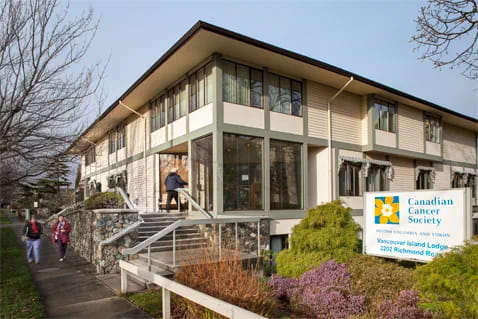 What started out as a routine mammogram turned out to be anything but ordinary for Georgia Carnahan. She was diagnosed with breast cancer — and her whole life was about to change.
Georgia needed treatment for her tumour, but that would entail a four-hour daily commute to her treatment in another city.
Luckily, Georgia's dad (a prostate cancer survivor) told her about a Canadian Cancer Society (CCS) lodge close to where she would be receiving treatment. These lodges, which you make possible with your support, provide a welcoming "home away from home" for people who need to travel to receive their cancer treatment.
Georgia jumped at the opportunity — and she's glad she did.
"Being at the lodge provided a sense of connection and community," says Georgia, a self-proclaimed social butterfly, who loved meeting and talking to others going through their own cancer journeys. "At the lodge, it didn't matter if you met someone recently. Everyone became like family."
And the proximity of the lodge to her treatment really made things easier for her.
"At the end of the day, you just want to be able to relax and feel the best you can," Georgia says. "There's a lot of wear and tear with treatment, so a long commute every day would have been hard."
Georgia is now back home and grateful to you for helping to provide her with an environment that was both "fun and welcoming" during a very stressful time.
"Donors, thank you! We had a great time, especially on the recreational night where we all got together and had fun," she notes. "I just wish you could join us and see that experience."