With the help of a caring online community you made possible, new mom Mélina found the emotional support she needed.
1 min. read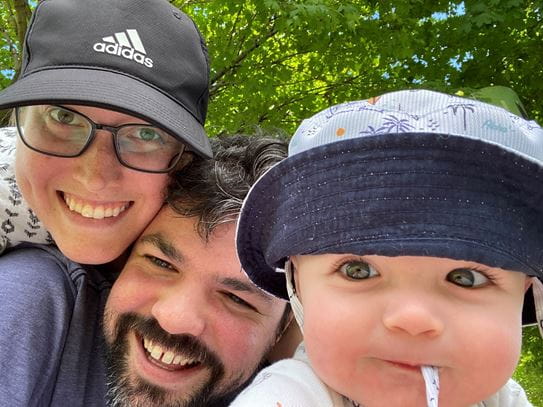 Emotional support is essential when a breast cancer diagnosis turns life upside down — and, thanks to you, it's what got Mélina Poirier through her long cancer journey.
Mélina, an active, young professional, was pregnant when she was diagnosed with aggressive breast cancer.
She gave birth to her son at just over 34 weeks of pregnancy, but the months of treatment that followed left her weak and discouraged.
"It was a heartbreaking situation, but I had to keep going for my child," says Mélina. "My soul was crushed, and I needed help to regain my will to live."
After nine months of treatment and surgery, Mélina's body began to recover until all traces of her cancer were gone. But while she was feeling better physically, she was in desperate need of emotional support.
"I experienced so many emotions in such a short period of time," she says. "My body was freed from the disease, but my mind hadn't kept up."
That's when she found CCS's
CancerConnection.ca
, an online community for those affected by cancer that Mélina describes as a "balm for her soul."
Here, Mélina found connection, shared her experiences, and found a sympathetic and safe space to talk about her distress and anxiety.
"The community was incredibly supportive," says Mélina. "I spoke to people who were very compassionate and understanding, which allowed me to rebuild myself psychologically."
Thanks to you, people like Mélina have a community at their fingertips 24-7 to share experiences and build supportive relationships with others in similar situations.
On the good days and the bad days, your generosity helps ensure no one has to face breast cancer alone.