This International Volunteer Day, CCS thanks volunteers of all ages who are leading with care, consideration and motivation to make a difference.
3 min. read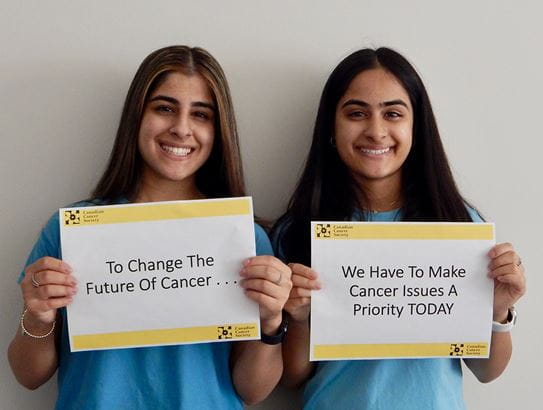 Every year on December 5 – International Volunteer Day – the Canadian Cancer Society (CCS) celebrates the impact and dedication of all volunteers from coast-to-coast.

United by the same goal, our volunteers give more than their time. They share their generosity, compassion, and spirit with people they've often never met, because of their endless determination and genuine passion for the cancer cause.

Championing the cancer cause
At just 18-years-old, twin sisters Alaina and Jillian Dhawan have made incredible impact. Volunteering with our CCS advocacy team over the summer, Alaina and Jillian helped to design a government relations campaign to increase tobacco licensing fees in municipalities across Ontario and Alberta – all to help improve the incidence of cancer amongst people in Canada.
"We can't afford to slow down on cancer prevention, research, education, and advocacy. We owe it to cancer survivors and their loved ones," says Alaina and Jillian, who grew up in Mississauga, Ontario. "Both our grandfathers were impacted by cancer, and we understand the tremendous toll cancer has on Canadians and strive to diminish this."

By supporting our advocacy team, Alaina and Jillian have learned just how powerful their voices can be to help make a difference. For other youth interested in advocating for a healthier world, the twins say the most important step is learning how to use that voice.

"We are the future. We can influence policies and laws that have a direct impact on our generation," says Alaina and Jillian. "Inspiring youth to continue learning about cancer-related issues will increase awareness and health literacy – ultimately leading to healthier outcomes in the future."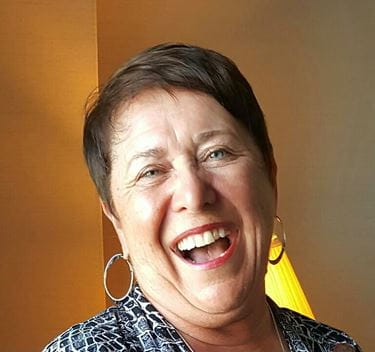 Giving back through empowering leadership

Nancy McKay (pictured above) first joined CCS as a volunteer member of the New Brunswick Provincial Board in 2015, and over the years has filled several Chair positions on our provincial and national boards. Over the last few years, Nancy proudly met with parties and members of the legislative assembly and successfully encouraged the provincial government to pass 2 bills, which received Royal Assent under the "An Act to Amend the Tobacco and Electronic Cigarette Sales Act". Through this legislation, Bill 55 requires vape shops to have a retail license and Bill 63 bans all flavours of e-cigarettes except tobacco flavour.
"The Canadian Cancer Society has held a strong voice and made incredible progress through our advocacy efforts," says Nancy. "We must continue to advocate on behalf of the cancer community to make their needs a priority. You can help hundreds of people with the stroke of the pen through public policy changes."
Along with her advocacy work, Nancy's leadership has strengthened the fundraising efforts of our New Brunswick Board to better support cancer research. For Nancy, investing in cancer research is a critical part of CCS's mission and a cause that is close to heart.

"Research is so important to me! My sister survived her own diagnosis because of groundbreaking cancer research," says Nancy. "It's because of research that she received the treatment she needed and was able to live another 40 years."
It's thanks to our volunteers that CCS is able to support people with all cancers in communities across the country. Make a difference today and get involved by visiting cancer.ca/volunteer.