A fun dinner idea for the grill combining sweet pineapple with savoury turkey and peppers.
2 min. read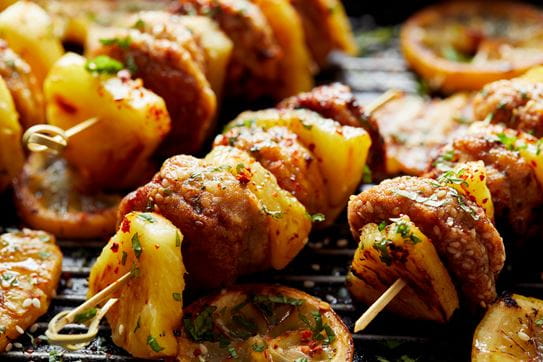 Did you know that cooking meat at high temperatures may increase your risk of cancer? Research has shown cancer-causing substances are formed when meat is cooked at high heat. This includes frying, broiling or barbecuing. 

Making healthy choices and eating well goes a long way. With summer in full swing, we recommend taking care when cooking meat on the barbecue this season. Check out these cooking tips to reduce your risk of cancer: 
Switch to braising, stewing, steaming or roasting to cook meat, poultry and fish at lower temperatures. 
Try marinating before cooking using an oil-free marinade with a strong acid like lemon juice or balsamic vinegar. Studies show marinating can prevent the formation of cancer-causing chemicals. 
Choose lean cuts of meat, poultry and seafood to reduce the smoke that develops when fat is cooked on high heat. This smoke contains harmful chemicals.  
Barbecue slowly. Keep food away from hot coals so that flames are less likely to char the food. 
Swap out grilled meat with vegetarian options. Our recipe below takes grilling to the next level with vegetables and fruit!  
Be sure to practice sun safety while you're barbecuing!  
Grilled pineapple and pepper meatball skewers 
Sweet, savoury and the best of both worlds, this meatball skewer is the perfect dish for grilling season! Make the most of summer cooking with this fun and simple recipe. 

Yield: 6 servings 
Prep time: 15 minutes
Cook time: 15 minutes 

INGREDIENTS:  
1 lb ground turkey
1/3 cup panko breadcrumbs
2 tbsp mint fresh, chopped
2 cloves garlic minced
1/2 tsp salt
1/2 tsp pepper
1 small pineapple peeled and cored
1 large bell pepper cut in chunks
1/2 cup sweet Thai chili sauce 
INSTRUCTIONS:  
In a bowl, combine turkey, breadcrumbs, garlic, mint, salt and pepper. Shape into 18 meatballs. Skewer meatballs alternating with pineapple, pepper and onion chunks on 6 soaked or metal skewers.  
Place skewers on greased grill over medium heat and grill for about 8 minutes, turn over and grill 5 minutes until lightly charred and meatballs are no longer pink inside. Brush lightly with Thai chili sauce and grill for 2 minutes. 
Remove to platter and serve with any remaining sauce for dipping. 
Peanut Sauce Option: Substitute peanut sauce for Thai Chili Sauce.  
This recipe is courtesy of Half Your Plate.