This refreshing salad is the perfect side dish to serve on a warm summer evening and is full of fruits and veggies!
1 min. read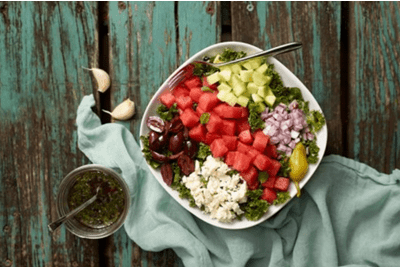 Ingredients @(Model.HeadingTag)>
3 cups kale chopped fine
2 cups watermelon diced and seeded
2 cups English cucumber peeled and diced
1/2 cup red onion finely diced
1/2 cup kalamata olives cut in halves
1/4 cup extra virgin olive oil
2 tbsp balsamic vinegar
1 tsp garlic minced
1 tbsp fresh mint chopped
Ground pepper to taste
1/2 cup feta cheese crumbled
Instructions @(Model.HeadingTag)>
In a large bowl, add kale, watermelon, cucumber, onion and olives.

In a small bowl, whisk oil, vinegar, garlic, mint and pepper.

Pour dressing over salad and toss thoroughly. Top with feta cheese. Serve.