Thanks to an innovative research study, there is new hope for babies with one of the most common types of brain tumour.
2 min. read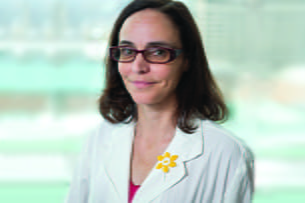 Thanks to an innovative research study – funded with your support – there is new hope for babies with one of the most common types of brain tumour.
CCS-funded researcher Dr Cynthia Hawkins led an international team of the best and brightest scientists to research infant brain tumours. They discovered that infant gliomas fall into 3 main genetic subtypes, allowing doctors to more accurately diagnose infant gliomas and better tailor treatment.
By avoiding unnecessary therapies and ensuring that these babies get the right treatments sooner, we are maximizing their chances for a long and healthy life.
We sat down with Dr Hawkins to learn more about her work and the impact it will have.
We know that many of the current treatments have really bad side effects, which is a huge issue for these babies. There has also been very little research on infants. As a result, there's a lot of uncertainty about how exactly to treat these patients. We wanted to ask, are there genetic differences underlying these gliomas that can help us create better treatment strategies?
In many cases, doctors won't perform a biopsy on these infants with gliomas because the surgery could be risky. But what we've seen is that if we can do a biopsy and find out the underlying genetics of the tumour, we could potentially treat them with targeted therapies, which have a much better response rate. In fact, we've seen fantastic responses to targeted therapies in infants to the point where we can get the tumours small enough to remove by surgery.
Our goal is to get this information out to doctors around the world so that they start to look at these infant tumours differently and recognize that there's actually a good chance that they could be treated with targeted therapies. We've definitely already seen practice change at Sick Kids in Toronto where we're now much more likely to biopsy patients and get them on targeted therapies as soon as possible.
There are a lot of new therapies coming down the pipeline. The next decade is going to see a big transformation in cancer care, moving away from general toxic therapies and adding in these new targeted agents.