Ways to reduce your cancer risk during COVID-19
2 min. read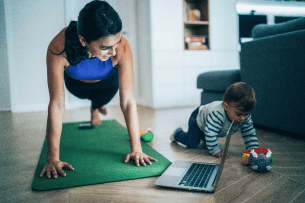 Over the last few months, Canadians have been encouraged to adjust their daily routines for life at home. While COVID-19 and its effects on health are a growing concern for all Canadians, cancer doesn't stop being a life-threatening and life-changing disease in the middle of a pandemic.
An estimated 225,000 Canadians are diagnosed with cancer each year— and yet about 4 in 10 cancer cases can be prevented through healthy living and policies that protect the health of Canadians.
Ready to take steps to reduce your cancer risk? Here are some healthy tips to try at home:
Eat well: Enjoy a variety of vegetables and fruit every day, and make sure to eat plenty of fibre! Try cooking vegetarian versions of your favourite meals and add fibre-rich ingredients like lentils and pulses into your recipes.
Aim for 30 minutes of moderate activity each day: Add physical activity into your new daily routine to keep your heart going and protect against cancer. Try a virtual workout session from home, such as yoga, dance or Pilates.
Keep alcohol drinking light: It's sobering news, but drinking any type or amount of alcohol increases your cancer risk. Try swapping out regular cocktails with fresh fruit spritzers.
Be sun safe: Even though you may be spending most of your time at home, it is important not to forget sun safety! When you go outside, make sure to practise SunSense. Stay in the shade, wear protective clothing, a wide-brimmed hat and sunglasses and apply sunscreen properly
Curious to learn more about your own cancer risk? It's My Life! is our online, interactive tool presented by Desjardins, that enables users answer questions about their personal lifestyle and receive tailored cancer prevention information and tips.
Visit It's My Life! now and fill out the survey at the end of the tool for your chance to win a wearable fitness tracker! No purchase necessary. Open to age of majority residents of Canada. Starts May 27, 2020 at 12:01 am EST and ends August 21, 2020 at 11:59 pm EST. Full rules and entry details at www.cancer.ca/iml. One (1) prize available (wearable fitness tracker: $99.95 CAD). Odds depend on number of eligible entries. Skill-testing question required.