Hope and healing through the Canadian Cancer Society's Lodge that Gives
2 min. read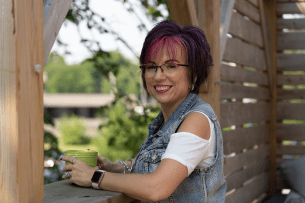 Bonnie didn't feel afraid when she was first diagnosed with cancer because she knew she would have help from a loving support system.
Bonnie's cancer journey first began in 2008, when her husband Ben was diagnosed with cancer and stayed at the Lodge That Gives in Halifax—an affordable and welcoming place for those who are medically required to travel a significant distance for cancer treatment. Given that Bonnie and Ben live in a rural community, they were thankful for the support they received from the Canadian Cancer Society (CCS) when they stayed at the Lodge.
"The Canadian Cancer Society's Lodge is an incredibly welcoming place for anyone who's been touched by cancer," Bonnie explains. "As a caregiver, it was helpful to have these support programs available to ease up the burden."
Bonnie thought her family's journey with cancer was over, but after more than a decade, the 49-year-old received her own cancer diagnosis – she had stage II breast cancer. Bonnie's oncologist told her that she would need daily radiation treatments about two hours away from her home.
Thankfully, Bonnie knew she could turn to CCS for help.
"I'm so grateful to have stayed at the Lodge," says Bonnie. "To be able to be around a group of people who just inspire, and breed positivity, helps so much on so many levels," says Bonnie.
After spending a month at the Lodge, Bonnie reached the end of her treatment and is now moving onward and upward. She attributes the success of the Lodge to the dedicated staff, volunteers, and donors who contribute to the facilities and programs.
Each spring, through the annual Daffodil Campaign, CCS raises funds to help people with cancer live their lives more fully. This year, while we have paused some fundraising activities, including our traditional, offline Daffodil campaign involving door-to-door canvassing, flower sales, pin sales, galas and other in-person events, the need for our mission – to eradicate cancer and enhance the quality of life of people living with cancer – doesn't change.
When daffodils bloom, hope grows. We hope you'll help make a difference by supporting our Daffodil campaign online and donating to support programs like the Lodge That Gives or visiting cancer.ca/daffodil. People affected by cancer are counting on all of us.