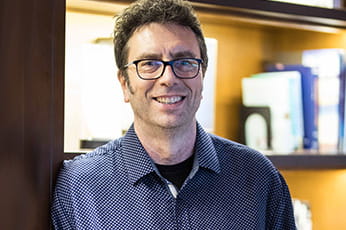 When Wes Tanney was diagnosed with prostate cancer, he struggled to understand his diagnosis and felt anxious not knowing what was ahead. That's when he turned to the Canadian Cancer Society's website for answers.
"The information provided on cancer.ca helped me understand my diagnosis and feel as though I have some control over the process," he says.
He learned about test and treatment options, which helped him communicate with his doctor and make informed decisions about treatment.
To help with the emotional side of his journey, Wes turned to CancerConnection.ca, a CCS online community. Here he found a welcoming space where people living with all types of cancer can connect and build supportive relationships with others who have been there.
During these uncertain times, when people may feel particularly anxious and isolated, this online support is especially important for people with cancer. It allows them to discuss concerns about cancer and COVID-19 and talk about their journeys with others in the comfort of their own homes.
"The community was extremely open," Wes explains. "Everyone shared their personal experiences. Hearing other people's stories helps you realize that you aren't alone. Looking up to other people and connecting to their experiences helped ease a lot of anxiety."
Your generosity enabled us to provide community and support to more than 338,000 people through CancerConnection.ca and our other support programs. You also helped more than 14 million people find a reliable source of up-to-date cancer information at cancer.ca.
Cancer can be scary, confusing, and isolating – particularly now. But with your support, we can help ensure no one has to face cancer alone.