COVID-19 has shone a light on some of the largest gaps in our health care system. One of those gaps is something many Canadians with cancer face every day – the fear and uncertainty of what happens when you can't work and you don't qualify for a financial support program.
1 min. read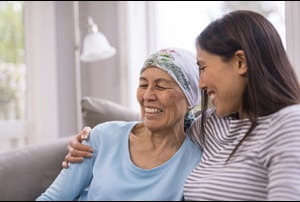 One such program is the Employment Insurance Sickness Benefit. Virtually unchanged since the 1970s, the sickness benefit gives insured employees up to 15 weeks of financial assistance if they can't work for medical reasons. Though not without drawbacks, it serves as an important safety net for workers who need time to recover from serious illness or injury.
But the benefit is capped at 15 weeks, whether or not the worker is healthy enough to return to work. Many reach the end of their benefits before recovering and are faced with the difficult decision: Lose their jobs or continue recovery.

Fortunately, the federal government committed to extending the benefit from 15 to at least 26 weeks. The Canadian Cancer Society (CCS) has long advocated for an extension of the EI Sickness Benefit from 15 to at least 26 weeks. During the 2019 election, the Liberal Party of Canada committed to an extension of the EI Sickness Benefit. This commitment was reaffirmed in the Minister of Employment, Workforce Development and Disability Inclusion's Mandate Letter, handed out in December 2019. The report serves as a reminder of why it is so important that this commitment be followed through.

To find out more about the EI Sickness Benefit and recommendations for how it can be improved, read the full report on the Employment Insurance Sickness Benefit Policy (available in English only).