A central venous catheter (CVC) is a thin, flexible tube (catheter) that is placed into a large vein above the heart. It may be inserted through a vein in the neck, chest or arm. It's also called a central venous line or central line. Some catheters have 2 or 3 tubes (called double or triple lumen catheters). This lets you receive more than 1 treatment at once. Depending on the type of catheter, it may be left in place for weeks, months or years.
Why a central venous catheter is used @(Model.HeadingTag)>
You may have a CVC placed for one or more reasons. A CVC can be used to:
give chemotherapy drugs and other medicines
give intravenous (IV) fluids and parenteral nutrition
give blood and platelet transfusions
take blood samples
A CVC reduces the number of injections and needle sticks you will need. A CVC can also:
lessen soreness from IV therapy
prevent the burning feeling sometimes felt when getting drugs by other IV methods
prevent the inflammation and scarring that can happen in a vein after many needle sticks
increase comfort and lessen anxiety for people who often need IV therapy and blood samples taken
Types of CVC @(Model.HeadingTag)>
Three common types of CVC are a tunnelled central venous catheter, a peripherally inserted central catheter (PICC) and a subcutaneous (implanted) port.
Your doctor will recommend the type of CVC you should have based on your situation and how long the CVC may be needed. A CVC can be inserted either in a special x-ray department with local freezing and light sedation or in the operating room using general anesthetic (you will asleep).
Tunnelled central venous catheter @(Model.HeadingTag)>
A tunnelled CVC is a tube that tunnels under the skin of the chest, enters a large vein near the collarbone and threads inside the vein to sit above the right chamber (atrium) of the heart. The other end of the catheter stays outside the body.
Tunnelled CVCs are sometimes referred to by their brand name. The 3 main types of tunnelled CVC are Broviac, Hickman and Groshong.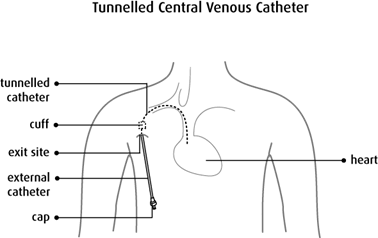 Peripherally inserted CVC (PICC) @(Model.HeadingTag)>
A peripherally inserted central catheter (a PICC or PICC line) is a tube that is placed in a large vein in the inner elbow area. It is threaded through the vein to rest above the right atrium of the heart. The other end of the catheter stays outside the body.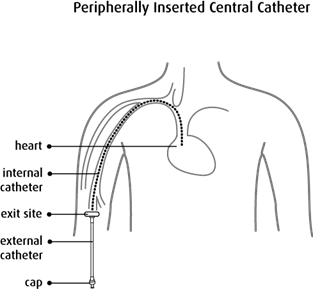 Subcutaneous port @(Model.HeadingTag)>
A subcutaneous port has a small round titanium or plastic chamber (portal) with a self-sealing top usually made of silicone and a flexible tube. The port is placed completely under the skin on the right or left side of the chest. The catheter threads under the skin from the portal into a large vein near the collarbone, then above the right atrium of the heart. It is also called an implantable venous port or Port-a-Cath.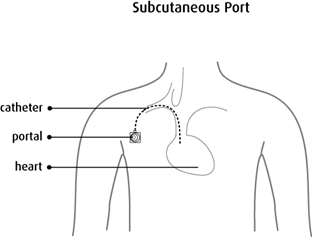 Caring for a CVC @(Model.HeadingTag)>
Central venous catheters need special care. They may need regular cleaning or sterile dressing changes. CVCs need to be flushed regularly with a special sterile solution to keep them from getting blocked when not in use. Your health care team will give you information and teach you about caring for a CVC before you go home.
Special considerations for children @(Model.HeadingTag)>
Preparing children before a test or procedure can lower anxiety, increase cooperation and help them develop coping skills. Preparation includes explaining to children what will happen during the test, such as what they will see, feel and hear.
Preparing a child for a CVC depends on the age and experience of the child. It is important not to tell children that having a CVC means they will never have to be poked by a needle again, since they may still need needle sticks for some blood tests.
Find out more about helping your child cope with tests and treatments.
Expert review and references