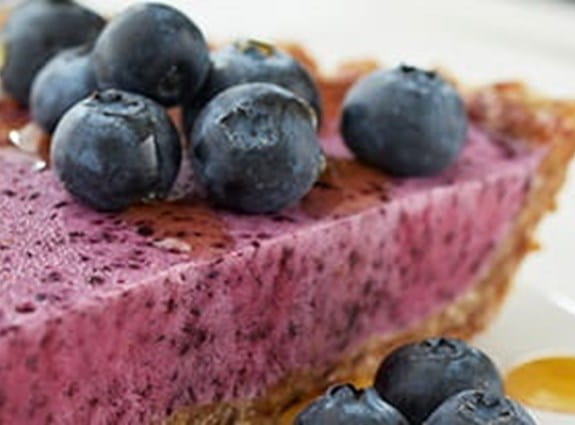 No-bake frozen blueberry pie
This delicious frozen dessert is high in calories, protein and fibre. It might tempt you to eat when you have a poor appetite or if you have a sore throat or sore mouth.
Recipe by: BC Blueberry Council
Photo credit: BC Blueberry Council, Tracey Kusiewicz
Ingredients @(Model.HeadingTag)>
Crust
1/2 cup almonds, whole or sliced
1 cup pitted and chopped dates
3/4 cup unsweetened, finely shredded coconut
3 tbsp butter, melted
2 tbsp maple syrup
1 tsp cinnamon
1 tsp finely grated orange zest
1/8 tsp (pinch) of salt
Filling
1 1/2 cups blueberries, fresh or frozen
1 cup plain 11% Greek yogurt
1/4 cup maple syrup
1/4 cup cream cheese, room temperature
3 tbsp whipping cream
1 tbsp finely grated orange zest
1 tbsp fresh orange juice
Preparation @(Model.HeadingTag)>
Crust
Line the bottom of a 9 in (23 cm) pie dish with a piece of parchment paper.
In a food processor, pulse the almonds until finely ground, but not a paste.
Add the dates, coconut, butter, maple syrup, cinnamon, orange zest and salt, and pulse until finely ground.
Press the crust to the bottom and sides of the pie dish and set aside at room temperature.
Filling
In a blender, purée the blueberries, yogurt, maple syrup, cream cheese, whipping cream, orange zest and orange juice to a smooth consistency.
Pour the filling into the pie dish and freeze for about 2 to 3 hours.
Top with fresh blueberries and a drizzle of maple syrup. Best enjoyed within 3 to 8 hours.
Nutrition facts @(Model.HeadingTag)>
Per slice
Calories: 446
Fat: 27 grams
Carbohydrates: 49 grams
Fibre: 6 grams
Protein: 6 grams