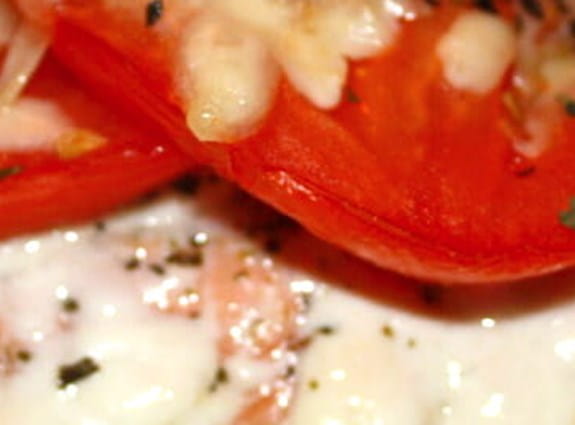 Herb and tomato baked salmon
Salmon is high in protein, and this delicious baked dish is very easy to make.
Recipe by: Brian Piercey, executive chef, Bridie Molloy's and the Celtic Hearth, St John's, NL
Ingredients @(Model.HeadingTag)>
1 tbsp olive oil
2 boneless salmon fillet portions
1 tbsp fresh basil
1 tbsp fresh oregano
salt and pepper, to taste
4 thin slices of tomato
2 tbsp grated fresh Parmesan cheese or mozzarella (optional)
Preparation @(Model.HeadingTag)>
Preheat the oven to 375°F (190°C). Line a baking sheet with a piece of parchment paper and brush lightly with some of the olive oil.
Place the salmon fillets onto the paper and sprinkle with the basil, oregano, salt and pepper. Top with the tomato slices, brush with the rest of the olive oil and add the Parmesan cheese.
Bake until the salmon starts to flake apart when touched and the Parmesan is lightly browned – about 15 minutes.
Serve with basmati rice or on spaghetti noodles with a basil pesto.
Nutrition facts @(Model.HeadingTag)>
Per serving
Calories: 282
Fat: 17 grams
Carbohydrates: 3 grams
Fibre: 1 gram
Protein: 28 grams