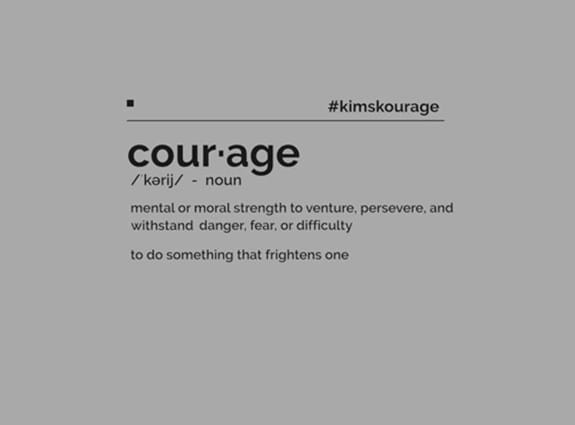 Kim's story: Courage
After finding a lump in her breast on her 56th birthday, Kim was diagnosed with breast cancer. She shares about her experience struggling emotionally and how she found her courage. Watch her ring the bell!
[Music playing]

Kim's voice: My 56th birthday started like many others with a traditional family barbecue. After some discussion with my son about the proper way to light a barbecue, I ended up with singed hair. In an attempt to rid myself of the smell, I took a shower. And that's where I found the lump in my breast. I was hoping for chocolate. Instead, I got cancer.
My husband and I had just downsized to a small cabin by Algonquin Park. Our adult children were off on their own, and the vision of retirement was just before us. In my 30-plus years as a social worker, I was blessed to worked with children, families, adults who showed such incredible courage in their lives. They work through trauma, life threatening illness and events, situations that were beyond their control.
I never considered myself courageous until my sister decided to create support for me on social media using the hashtag #kimskourage. I certainly didn't feel very courageous. I had so many questions. I lived over 3 and 1/2 hours from my cancer centre and 5 hours away from where I would do radiation. How was it going to manage the travel and not being around family and friends?
I felt scared, anxious, and overwhelmed. Physically, I felt confident in my oncologist and medical team. Emotionally, I was a mess. I knew how to guide other people in their mental health journey. But for my own, I was a disaster. In the middle of a dark, cold night before my surgery, I signed up for Cancer Connection and sent my first message.
That lovely "bing" happened almost immediately. I remember the words. "Welcome. You are not alone." Followed by some words of wisdom and support. There was somebody else out there who had felt the same and had survived. All of a sudden, I started to feel a trickle of courage.
I was part of the health team in treating my cancer. Even being so far away with no other social supports, I wasn't alone. I began to realize that courage comes from within and from the support of others. Reading other posts on the online site inspired me and gave me hope.
Now, two years later, what I would tell my 56-year-old self is that cancer also affects our mental health. I would share that you are not alone. Living in rural communities doesn't mean you are disconnected. Lean in and embrace the support.
And I also tell lots of other cancer survivors this every day as a community mentor. We each have courage within us, and by reaching out for support or to ask more questions, our courage builds.
[Kim rings gong at cancer centre]
Supporter voice:
Congratulations!
[Clapping]
Supporter:
Congratulations!
[Cheers]
Kim:
The happy dance! Thank you!
[Laughter]