How a breast cancer survivor and CIBC Run for the Cure supporter found community and connection
After her breast cancer diagnosis, Kim found support through our online community. Now, she joins the CIBC Run for the Cure to help others affected by cancer.
4 min. read
As a social worker, Kim supported clients and their families through life-changing illnesses, but when she was diagnosed with breast cancer shortly after her 56th birthday, she needed a support system of her own.
While her friends and family were there for her during this difficult time, living in a rural community made it challenging for Kim to join in-person cancer support groups. Looking to connect with others who had gone through similar experiences, she signed up for CancerConnection.ca – our online community for people affected by cancer and their loved ones – supported with funds raised through the Canadian Cancer Society CIBC Run for the Cure.
"One dark, cold night before my cancer surgery, I signed up for CancerConnection.ca," shares Kim. "Immediately, I got a notification and saw words of wisdom and support pour in from the community. I remember reading, 'Welcome, you are not alone', and I started to feel a trickle of courage."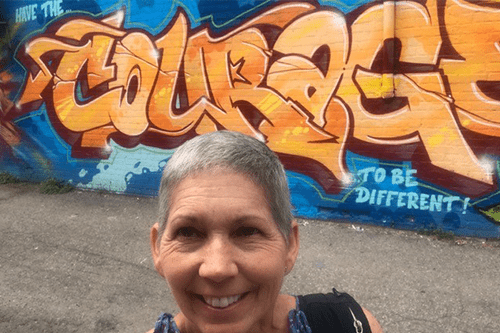 Connecting to an online community @(Model.HeadingTag)>
Through CancerConnection, Kim found comfort from others who had also faced breast cancer and could relate to what she was going through. Inspired by the sense of connection that the online community provided, Kim became a community mentor on CancerConnection to be there for others during their cancer journey and ensure that no one has to face cancer alone.

"The Canadian Cancer Society provided me with connection – connection to a community, so I didn't feel alone, connection to information, so I felt informed and empowered by knowledge, and connected to others who understood the emotional and physical journey of cancer," says Kim.
Running to give back @(Model.HeadingTag)>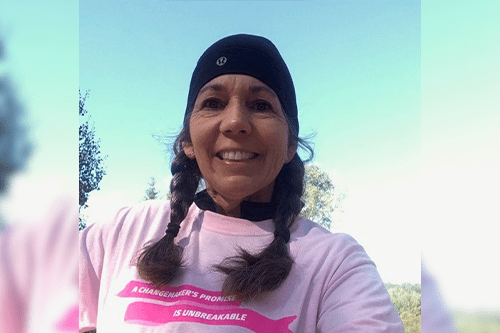 After her recovery, Kim wanted to continue to give back and support Canadians living with or beyond cancer – which is why she joined the CIBC Run for the Cure. The CIBC Run for the Cure is a 5k or 1k walk or run that raises funds for the Canadian Cancer Society. It is the largest single-day, volunteer-led event in Canada in support of the breast cancer cause.

Last year, 85,000 participants joined the Run in 56 communities across the country. For those who don't live close to a Run site, our virtual "My Run. Anywhere. Any way." program allows them to participate by planning their own route – something Kim has been doing since 2017.

"Luna, my dog, is my running buddy and she always keeps me moving on Run Day. Our 'Run route' usually consists of trails through Algonquin Park," shares Kim.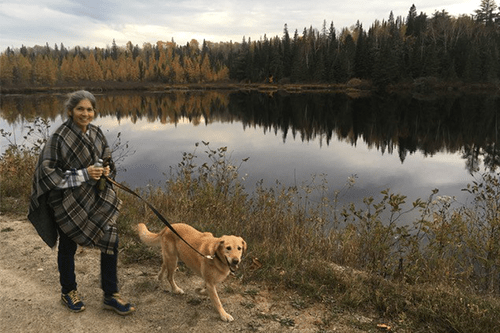 A new one-of-a-kind Run @(Model.HeadingTag)>
Due to the COVID-19 pandemic, physical distancing is the reality for the foreseeable future. But we're still committed to an energetic, interactive and engaging Run Day – which is why we've reimagined this year's Run into a one-of-a-kind virtual experience.
On October 4, 2020, Kim will be joined by Canadians across the country participating in our first ever, nationwide virtual CIBC Run for the Cure. It will include all the best things about Run Day – like connecting with your teammates, an inspirational opening ceremony, and a high-energy warm-up – as well as new features like the ability to create and customize your own avatar on our refreshed mobile app and website.
While the Run might look a bit different this year, the reason behind this event remains the same – to raise funds for groundbreaking breast cancer research and a coast-to-coast support system that makes a real difference for people affected by breast cancer. And for Kim, participating is also a way to stay healthy and celebrate being a survivor, while giving back to help others affected by cancer.
"I run for my mental health, I run for cancer research, and I run for people who feel alone on their cancer journey," shares Kim.
Who will you Run for?
With 1 in 8 Canadian women expected to be diagnosed with breast cancer in their lifetime, and 75 Canadians faced with a breast cancer diagnosis every day, breast cancer affects so many of us. Like Kim, we all have a reason to show our support. Thanks to the funds raised through the CIBC Run for the Cure, we now know more than ever before about how to prevent, diagnose, treat and live with and beyond breast cancer. When you sign up and fundraise for the CIBC Run for the Cure, you help support people like Kim and ensure that no Canadian has to face breast cancer alone.
Join Canadians across the country for our first-ever virtual Run and help us create a world where no Canadian fears breast cancer.