How research helped change the odds for this childhood cancer survivor
See how research advancements in childhood leukemia have improved survival rate over the years and made a difference for this young woman.
2 min. read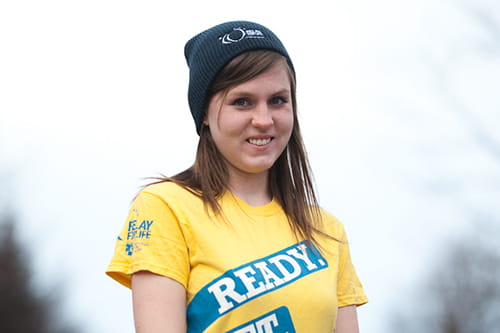 Emma was diagnosed with acute lymphoblastic leukemia (ALL), a type of cancer that starts in blood stem cells. ALL is the most common type of leukemia to affect young children, and devastatingly for Emma's family, it wasn't the first time this disease impacted a loved one.
"My great aunt Edith died from it [childhood leukemia] when she was really young," revealed Emma. "There were so few options for treatment back then and so little hope."
Fortunately, research has come a long way since Emma's great aunt was diagnosed in the 1940s. By the time Emma was diagnosed in 2005, the survival rate was 75%. As of 2018 – just 13 years later – it's 90%.
Over the years, advancements in research has helped us better understand how to prevent, detect, treat and manage cancer. Every day, progress is being made to change and save the lives of people like Emma.
"I had two and a half years with daily rounds of intense chemotherapy," said Emma. "My treatment was successful and today I'm healthy."
Now, she is 23 years old and works as a supply teacher. Her personal journey with cancer has motivated her to give back to the Canadian Cancer Society. In fact, for years she took part in our Relay For Life event to raise funds in support of research breakthroughs that could change the odds for others affected by cancer.
"Cancer has touched my life in so many ways, so I know how important it is for the Canadian Cancer Society to receive funding for its services and research," shared Emma.
In just a few generations, the changes in our understanding of childhood leukemia meant Emma was able to survive and is now able to look forward to a bright future. With your support, we can continue to fund studies that could lead to life-saving discoveries.
Give the Gift of Discovery from our Gifts for the Cure collection to help fund Canada's best and brightest researchers. Plus, if you purchase by August 31, 2018, your gift will be matched by one of our generous corporate partners, Jamieson Vitamins.* This means your impact will be doubled and your donation will go further!
*Your donation will be matched up to a total of $100,000