How a phone call provided hope to this couple faced with cancer
After a cancer diagnosis changed their lives, see how a couple found hope and support by speaking with a cancer survivor through our Peer Match Program
3 min. read
A cancer diagnosis can change everything – for the person who receives the news and for the people who love and care for them. As a partner, parent, family member or close friend, a loved one's diagnosis can affect you in many ways too. You may find yourself stepping into the role of a caregiver to provide your loved one with the physical and emotional support they need, often without any practical experience in this area.
From attending appointments, to offering care, to giving medicine, to managing the other expected – and unexpected – aspects of this experience, it can be overwhelming. It's normal to feel stressed, angry, helpless, sad or a range of these emotions at once. You are not alone.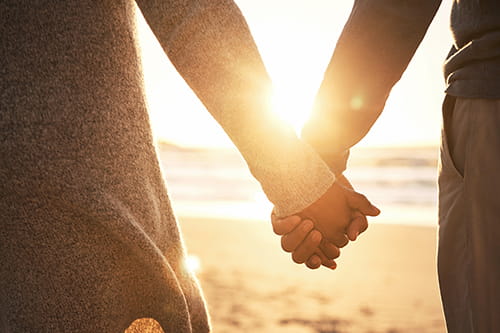 At the Canadian Cancer Society, we believe no one should face cancer alone. Whether you're personally facing cancer or you're a caregiver, we can help you find support in others who've been through a similar journey. Talking to someone who knows first-hand what you're experiencing could help you cope during difficult times.
After her husband Mark was diagnosed with cancer, Winnie reached out to our Peer Match Program and was connected with a volunteer by phone. She shares how both her and Mark ended up finding hope and support in the voice on the other line.
Realizing you're not alone @(Model.HeadingTag)>
In 2017, Winnie and Mark had just returned from a trip overseas when Mark started experiencing excruciating pain that left him barely able to move. At first, it was thought to have been caused by a virus that he caught during their travels. But after more hospital visits and further examination, in mid-December of that year they were told Mark had stage 4 double-hit lymphoma – a rare and aggressive type of non-Hodgkin lymphoma.
While Winnie and Mark were determined to deal with this diagnosis positively, it became more difficult over time. When the Christmas holidays arrived, Winnie couldn't help but feel desperate.
During this time, she came across information about our Peer Match Program, a free and confidential service available across the country. She registered through our website and when she received a response shortly after during the holidays, she felt like she was thrown a lifeline when she needed it most.
"People were ready to help," shared Winnie. "It showed me that we weren't alone."
Conversations of hope and support @(Model.HeadingTag)>
By the start of 2018, Winnie was matched with Trevor, a specially-trained volunteer who was a cancer survivor himself. During their calls, Trevor offered encouragement and shared how he coped. Both Winnie and Mark would listen and ask him questions about his experience. Connecting with someone who understood their situation truly helped them feel supported and more prepared for every stage of their journey.
Beyond the practical information that Trevor was able to provide, conversations with him also made a positive difference in other ways. Speaking with a survivor helped the couple see beyond the treatment and to the other side, to the possibility of one day putting cancer behind them.
"It gave us hope," shared Winnie.
Reach out to Peer Match @(Model.HeadingTag)>
For Winnie and Mark, their journey continues and they're taking it day by day.
For others just starting their journey, Winnie believes Peer Match – or "Peer Angels" as she likes to refer to it – can help those diagnosed with cancer and their caregivers in ways that other family and friends may not be able to.
"You feel more connected to someone who's been in the same situation. Reach out for help, especially at the beginning," shared Winnie. "It's a challenging journey ahead of you and it helps to know you are not alone."