Every rider has a reason to join Tour
Joining a Canadian Cancer Society Cops for Cancer cycling Tour is no easy feat. Meet 2 riders from Tour de Coast and see why this event matters to them.
4 min. read
Riding in a Canadian Cancer Society Cops for Cancer Tour will change your life. Spending months training for an 800-kilometre bike ride will improve your physical health, but joining Tour is a meaningful and unique way for riders to give back to a cause that's close to their heart. What's the cause? To change the future of childhood cancer.
Meet two long-time riders on the Tour de Coast team to better understand the impact Tour can have on your life. Their stories reveal what it means to be part of something as special as Cops for Cancer and why so many of them view this event like their "second job".
When cancer hits close to home @(Model.HeadingTag)>
Meet Mark. In 2005, Mark's wife was diagnosed with cancer. For ten years, Mark cared for his wife as she received treatment for her cancer. And for ten years, he witnessed the impact cancer has on your loved ones. Today, his wife is cancer-free, and in 2014, Mark's boss asked him if he'd join the Tour de Coast team. He jumped at the chance to help others through their journey with cancer.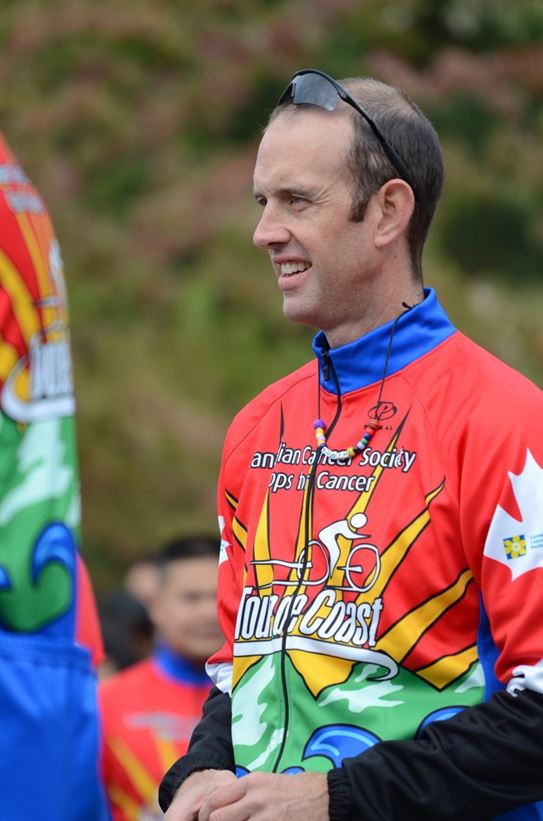 Since joining Tour de Coast in 2014, Mark's built close friendships with teammates and created unforgettable memories on the road. But what stands out most for Mark is when his team meets the children benefitting from the Cops for Cancer mission.
"As a rider, the times that really stand out to me on Tour are my visits to Camp Goodtimes," explains Mark. "The kids are the ones that build my strength and encourage me to keep coming back each year."
Where children with cancer can be kids @(Model.HeadingTag)>
Camp Goodtimes is a summer camp for children and families affected by cancer. It's offers children an unforgettable camping experience in a fun and supportive environment, where they're among friends who understand what they're going through.
Often, riders like Mark get to meet campers and see firsthand the difference Cops for Cancer is making. Cops for Cancer fundraising events support the Canadian Cancer Society's ground-breaking childhood cancer research and our incredible support programs, like Camp Goodtimes. For Mark and so many riders before him, the experience makes all the hours of training worth it.
A rider with many Tours under his belt @(Model.HeadingTag)>
Bob's riding in his 13th Tour de Coast. What keeps Bob coming back for more? It's the feeling of being part of a community that shares a common goal to change the lives of children affected by cancer.
"One of our goals is to raise funds for childhood cancer research," says Bob. "Another goal is to remember the past, embrace the present and look forward to the future."
Bob sees the future in the students he visits while on Tour. A big part of Cops for Cancer's mission is to raise awareness among Canadian youth. Throughout Tour, riders make scheduled stops at schools to speak to students about their journey and to share the experience with them. These schools often host fundraisers and events that support the Tour. It's a community-driven effort from start to end.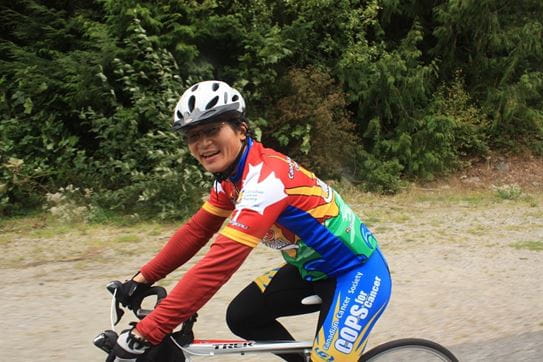 "Seeing the kids cheer us on at schools is uplifting," Bob explains. "I don't think the public realizes how important they are to the riders and how much their support inspire us to do bigger things."
First responders putting children first @(Model.HeadingTag)>
Since its inception in 1997, Cops for Cancer has been uniting first responders and communities across Canada in an effort to increase childhood cancer survival rates. To date, Cops for Cancer events have raised over $42 million in support of life-saving childhood cancer research and support programs.
Good luck to Bob, Mark and the entire team from Tour de Coast, and thank you for inspiring us each year!