Aeson and the impact of cancer research
Six rounds of chemotherapy, fifteen sessions of radiation and a stem cell transplant.
This cancer treatment plan might seem daunting for most people but not for one-year-old Aeson. Even before he was diagnosed with neuroblastoma, he was happy, upbeat and energetic – a cancer diagnosis wasn't going to change that.
"He was always happy, always ready to play. Nurses would fight to have him," says Aaron, Aeson's father.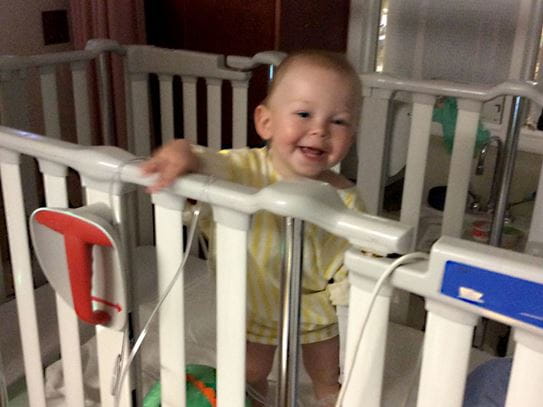 Aeson's story @(Model.HeadingTag)>
In 2014, Aeson began experiencing flu-like symptoms but when his parents took him to the doctors, they discovered that his symptoms were not from the flu, but from neuroblastoma, a type of high-risk childhood cancer that affects the nervous system.
Aeson's oncologist, Dr Rod Rassekh, informed Aeson's parents that some children can have a fatal reaction to the drugs that are traditionally used to treat this type of cancer. Thankfully, Dr Rasskeh was part of a research team that had found a way of preventing that.
Using a genetic test, doctors found that Aeson had genetic markers that put him at high risk for heart damage and had he taken the normal course of treatment prescribed, he could have died, or lived with lifelong heart problems. This groundbreaking discovery changed the course of Aeson's cancer journey.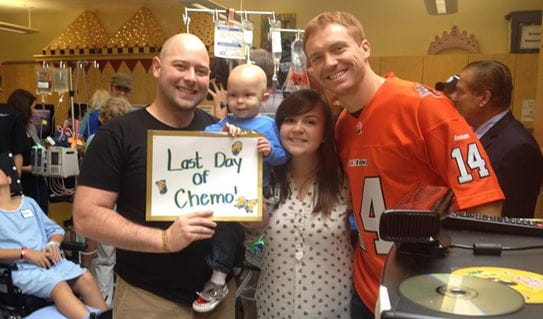 Aeson and his parents celebrates his last day of chemotherapy with former professional Canadian football quarterback, Travis Lulay.
Five years later, Aeson is in remission and is still as joyful as ever!
"He's just living life as a normal kid, and that's what we wanted for him…to just be a normal kid," says Aaron.
The far-reaching impact of cancer research
Cancer research is vital to helping us better understand how to prevent, detect and treat people living with cancer. That's why we invested in a study led by Dr Rassekh and Dr Colin Ross to take the research that helped Aeson one step further. With the support of Canadian Cancer Society donors like you, Dr Rassekh, Dr Ross and their team discovered that findings from the childhood cancer research study could also be applied to adults – further expanding the impact of this game-changing research to change more lives.
Canadian Cancer Society-funded researchers are at the forefront of some of the most exciting areas of cancer research today. As we continue to advance our understanding of cancer, we can help more Canadians like Aeson live and thrive beyond their cancer diagnosis.
"Research saved my son's life," says Aaron. "If it hadn't been for that test, Aeson wouldn't be here today."
---
Today, 84% of children with cancer are expected to live at least 5 years past their diagnosis. While progress is being made, there's still more to be done. An estimated 1,000 children are expected to face a cancer diagnosis this year. We believe that one child with cancer is too many and no parent should ever hear the words, "your child has cancer".
Together, we can provide comfort, support and hope to families who need it most. With the gift of Childhood Cancer Research, you'll support research to help detect children's cancer, improve treatments, minimize side-effects, and help families going through this difficult journey.
Join us in making a difference for children affected by cancer, like Aeson.