A place to call home while facing cancer
A place to call home while facing cancer.
3 min. read
Mike and Cynthia were leading their ordinary lives. Then they both found themselves in extraordinary circumstances that changed their lives forever. Cancer can do that to you. It can flip things upside down and make a mess of your ordinary life.
Fortunately, Mike and Cynthia found stability and support through their caring loved ones and positive experiences at lodges owned and operated by Canadian Cancer Society.

What's a Canadian Cancer Society lodge? @(Model.HeadingTag)>
Canadian Cancer Society has helped establish lodges where out-of-town patients can stay while receiving treatment. Lodges act as a home away from home and a place to meet other patients. Here, staff, volunteers and support groups help those affected by cancer get through some of the toughest times.

Like when Mike was diagnosed with neck cancer. He was in complete shock. "The cancer was stage 4 and in my lymph nodes," he explained. "And the possible side effects of treatment were downright scary."
Putting Mike at ease about his cancer journey was crucial. When he checked into the Kordyban lodge, located near the B.C. Cancer Agency's Centre for the North in Prince George, he felt its impact immediately.
"The Kordyban lodge is such a positive and welcoming place," recalls Mike. "My wife came down for every chemo to make sure I was ok, and friends visited whenever I was up to it. That's how I got through it – my family and friends got me through."
When time is of the essence @(Model.HeadingTag)>
"It could take me nearly 3 hours to drive to the hospital from home," explained Cynthia, who was diagnosed with stage 2 breast cancer in 2012. "The thought of having to travel to my appointments 5 days a week during winter conditions was an additional stress I could not face."
That's when Cynthia checked into the Jacques-Cantin lodge in Montreal, which was walking distance to the hospital where she received treatment.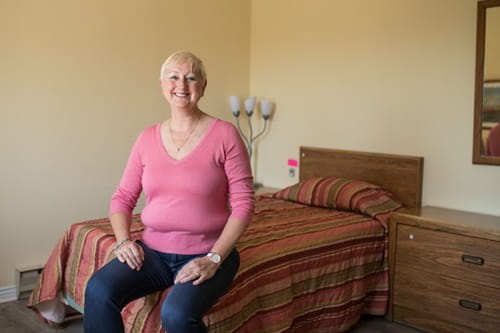 "The best part about staying at the lodge is that you are surrounded by people who really understand what you're experiencing and living through," said Cynthia. "You feel so connected."
A place you will never feel alone @(Model.HeadingTag)>
We only want the best for our friends, so when Sue's good friend was diagnosed with cancer and discovered he had to move to another city to undergo treatment, they both felt uneasy.
"It's a very trying time when you are fighting cancer away from home," explained Sue, who helped her friend transition to the Jean C. Barber Lodge, a Canadian Cancer Society lodge built for cancer patients visiting Vancouver for treatment.
All the comforts of home @(Model.HeadingTag)>
Canadian Cancer Society strives to ensure all residents staying at their lodges feel at home during their stay. Our lodges provide a peaceful place for patients to stay while they are receiving treatment and gives each patient a chance to focus on healing
Learn how you can support Canadian Cancer Society lodges.