We've united with the Canadian Lung Association and Heart & Stroke to call for significant tobacco reduction measures.
2 min. read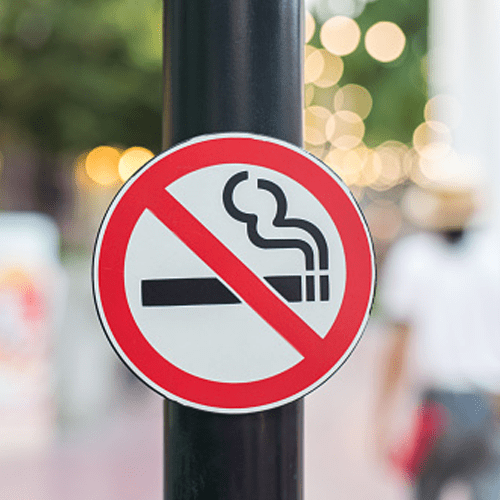 The Canadian Cancer Society (CCS) has been at the forefront of tobacco control advocacy for decades by advocating for important health policy changes. Which is why on May 31 - World No Tobacco Day - we joined forces with the Canadian Lung Association and Heart & Stroke to hold the tobacco industry accountable. United, we called for significant tobacco reduction measures to be included in a major lawsuit settlement currently under negotiation with Big Tobacco companies.
All 10 provincial governments have filed lawsuits against the tobacco industry, collectively seeking more than $500 billion in damages for tobacco-related healthcare costs. Through the Stop Big Tobacco campaign, we are urging provincial governments to ensure that any settlement from these lawsuits contain significant measures to reduce tobacco use, including measures to restrict tobacco companies from engaging in future detrimental behaviour.
In an open letter to provincial premiers, our organizations outlined public health measures that should be included in a settlement. These included allocating at least 10% of the distributions from the settlement to a fund, independent of government, to reduce tobacco use. Other measures include banning all remaining tobacco promotion, requiring the industry to make extra payments if tobacco reduction targets are not met, and publicly disclosing the millions of pages of secret internal company documents.
We know that smoking tobacco results in 46,000 Canadian deaths each year. It also causes about 30% of all cancer deaths, comprised of lung cancer as well as 15 other cancers.
Canadians want to see Big Tobacco held accountable for their actions. Our recent poll found that 87% of Canadians support a significant portion of the settlement funds be used for initiatives to reduce smoking among adults and youth.
As a result of extensive advocacy to government, we've successfully influenced numerous tobacco-related issues, including smoke-free public places, advertising restrictions, and package health warnings. But there is still more work to be done. You can help us to hold the tobacco industry accountable by sending an email to your provincial representatives by going to StopBigTobacco.ca.