Thanks to you, when Bobbi Jo called the Cancer Information Helpline looking for information, she found meaningful support.
2 min. read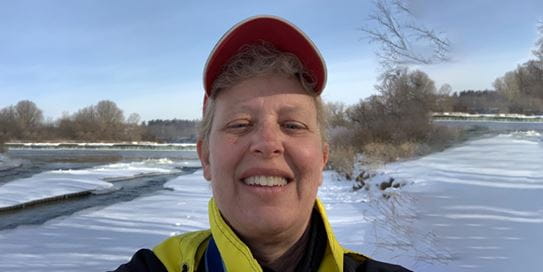 Active all her life, when Bobbi Jo started experiencing numbness in her foot, she assumed it was nerve damage from years of competitive fastball and hockey. She never imagined that a metastatic breast cancer diagnosis would follow.
"Everyone has heard of breast cancer, but I had never heard of metastatic cancer — when my doctor told me it was stage 4, I couldn't believe it," says Bobbi Jo. "All the doctors and social workers I met with were very helpful, and helped me understand my diagnosis, but I was so angry and still had more questions."
Bobbi Jo wanted to learn more about her diagnosis and called the Canadian Cancer Society's (CCS)
Cancer Information Helpline (CIH)
.
And thanks to your support that makes the CIH possible, when Bobbi Jo connected with a Cancer Information Specialist, she found the experience of speaking openly about her stage 4 metastatic breast cancer diagnosis to be therapeutic and wonderful.
"The lady I spoke with — she was amazing. She was so compassionate. She listened to every single word I said. She was so caring and made me feel like more than my diagnosis — she made me feel important," remembers Bobbi Jo.
Thanks to you, CCS's Cancer Information Helpline is a lifeline that is tailored to people with cancer, their caregivers, and their friends no matter where they are in their cancer journey.
Because of your support, CIH is available from coast to coast to coast and, through an interpreter service, in more than 150 languages — so no one has to face cancer alone.
If you or someone you know has questions about cancer, cancer prevention or local cancer support, reach out to an information specialist through live chat, toll-free at 1-888-939-3333 or by email through our
contact form
.