Your support has uncovered a promising new combined therapies treatment approach for triple negative breast cancer.
1 min. read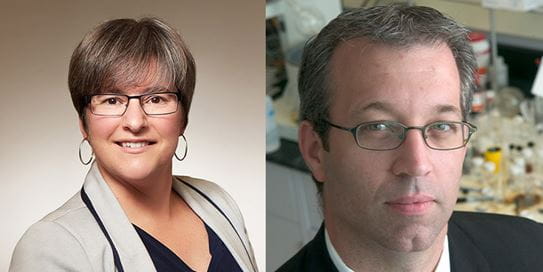 A CCS-funded study has uncovered a promising new treatment strategy for people with triple negative breast cancer (TNBC), an aggressive, hard-to-treat type of breast cancer that is more likely to occur in younger people.
TNBC doesn't respond to the therapies typically used to treat other forms of breast cancer, making it difficult to treat and leading to poorer outcomes. To address this challenge, CCS-funded researchers Drs Karen Mossman and John Valliant led a study to test a combination of therapies with the goal of identifying a more effective treatment regimen for people with this disease — and the goal of saving more lives.
The research compared the effectiveness of checkpoint therapy (a type of immunotherapy) alone, radiation therapy alone, and a combination of checkpoint and radiation therapies used together. In preclinical models, they found that when used alone, checkpoint therapy and radiation therapy had no benefit on TNBC, but a combination of the 2 therapies showed promising results with no toxic side effects — this new discovery could be a gamechanger for people affected by TNBC.
While more research is needed, this study brings us a step closer to developing a less toxic, more effective treatment regimen that causes fewer side effects and helps people with TNBC live longer, with better quality of life. Your support is making life-changing progress like this possible.