Looking for ways to fundraise? Get inspired by Sheila Hirsch-Kalm's Garden of Hope!
2 min. read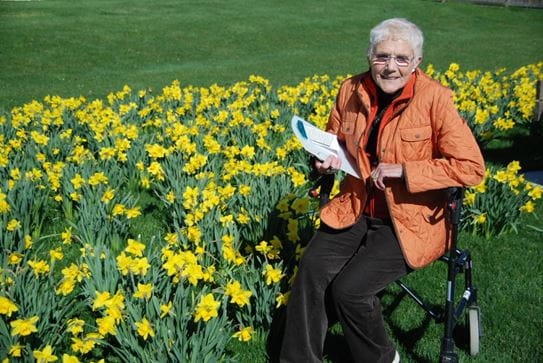 Every spring, the Canadian Cancer Society (CCS) Daffodil Campaign raises funds to support and help people with cancer live their lives more fully. The daffodil is resilient, it is the first flower to bloom in the spring and for those living with cancer, it is a symbol of strength, courage and hope. As we persevere through challenging times, we invite people across Canada to rally around this symbol to provide hope to people affected by cancer.
Whether it's funding world-leading research to better prevent, detect and treat cancer, enabling a nationwide support system or working with governments to shape health policies, together we can make a real difference for people affected by cancer. Our unstoppable determination to transform the future of cancer is what keeps us going. This year, one of the ways our volunteers will be raising funds for the Daffodil Campaign is by hosting their own fundraising events. One volunteer who has a deep connection to our Daffodil Campaign is Sheila Hirsch-Kalm.
In 2003, Sheila was diagnosed with myelofibrosis, a rare form of leukemia, and turned to CCS for support. Interested in engaging her community and finding unique ways to raise funds for our Daffodil Campaign, Sheila started a Garden of Hope fundraiser. In 2005 she began planting thousands of daffodil bulbs in Simcoe Park in Ontario's Niagara Region and each April, when the daffodils bloom, she invited the public to tour her gardens and collected donations for CCS.
For Sheila, planning these gardens is what kept her going through years of treatment. "I was always thinking about the next planting, when were they going to bloom and what were we going to do next year. It's all about attitude and these gardens helped keep me going. They're my legacy, and they're called the Gardens of Hope because they represent my hope – and the hope of everyone who finds joy in them."
Sheila planted her last garden in the fall of 2017 and marked the occasion with a ribbon cutting ceremony the following spring. Over the years, with help from the local fire stations, school and church groups, more than 100,000 daffodil bulbs have been planted across the community in parks, fire halls and community centers. Sheila's Gardens of Hope has won international awards, became the heart of their community, and raised thousands of dollars in support of CCS's support services, research and advocacy. Now in her 80s, Sheila has been keeping positive and continues to connect with local and international communities through Zoom. This has allowed her to keep engaged with people across the world.
Now more than ever, the daffodil's sunny symbol serves as a meaningful reminder for us to look ahead to brighter days. Kick-off the Daffodil Campaign by starting your own fundraiser.