For Sabrina and her son Kyler, camp provides a safe space to have fun, and an empowering community that understands their cancer journey.
2 min. read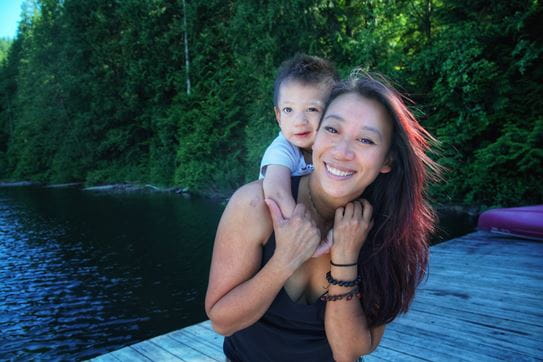 When her son Kyler was diagnosed with cancer at just a couple of months old, Sabrina felt an incredible need for community and connection. Childhood cancer is isolating, a painful loss of dreams, an overwhelming fear for the future, a burning anxiety that fills every day — all of which are difficult to understand for those that haven't experienced them, all of which left Sabrina on her own.

As Kyler went through several rounds of chemotherapy and surgeries, one thing that helped Sabrina through that difficult time was connecting with other parents facing similar journeys. As time went on, she also wanted Kyler to meet other kids that he could connect with and just have fun.

So when Sabrina learned of Camp Goodtimes, a Canadian Cancer Society (CCS) camp for kids with cancer — where they can also be joined by family members — she jumped at the opportunity for Kyler to have fun and enjoy the outdoors in a safe environment with the medical support they needed.

"For families like mine, Camp Goodtimes is the only opportunity we have for kids to create and play outside — and just be kids," she says.

Camp Goodtimes has been a magical place for Kyler and Sabrina since their very first day — so much so that they have not missed a summer at camp since.

For Kyler, Camp Goodtimes is a place to make new friends and safely play with children his own age. For Sabrina, camp is a connection to an empowering community that understands what her family is going through.

"It was so great for Kyler, but it was also important for me," Sabrina explains. "You can feel so isolated in your oncology bubble. Camp Goodtimes lets you step out into a bigger one, and for the first time, be included in something."

It's because of your generosity that CCS can provide vital programs like Camp Goodtimes that allow families and children a safe space to play, connect and just have fun.