A gift from the CCS gift catalogue is a great way to show you care – and each gift makes a difference in the lives of those affected by cancer.
2 min. read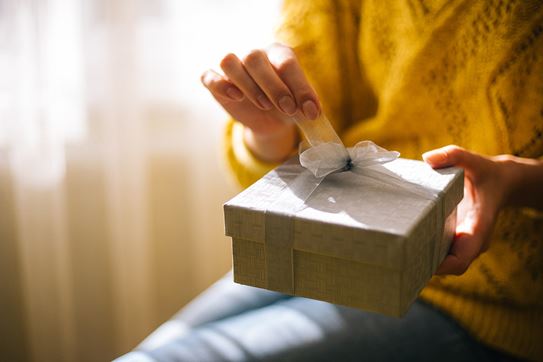 The holiday season is a time to show how much we care about those around us. With the CCS gift catalogue, you can find just the right gift for everyone on your list, while also making a difference for Canadians affected by cancer.
With more than 35 gifts to choose from, we have options for everyone on your list! Shop our brand new Holiday Collection, or choose from one of our top 5 favourite gifts for the holiday season.
Help Fund Clinical Trials
When research moves into the clinical trials phase, it means that new promising treatments and cancer prevention programs are one step closer for everyone. This gift will help to fund the costly step of moving patients into a clinical trial, which may help them in their journey to recovery and shape how people living with and beyond cancer are treated across Canada.
Childhood Cancer Research
Like you, we believe that one child with cancer is one too many. This gift supports young cancer patients and survivors by investing in research projects that find new ways to detect, diagnose and treat and manage childhood cancers.
The Mom Project
The Mom Project is a meaningful gift to give any mother in your life, because it provides a powerful support system to moms affected by cancer. Whether that's providing a home away from home during treatment, a wig to help her feel more like herself, an ear of someone who's been there, or simply hope through funding fertility research, this gift ensures no woman stands alone. This gift is also matched by CCS partners, which means your gift will have even greater impact!
Give a Ride
The emotional, financial and practical challenges of a cancer diagnosis can feel overwhelming. And sometimes, simply planning travel to cancer treatment appointments can be a difficult task. This gift provides transportation support for people who are receiving lifesaving treatments.
Holiday cards
Send love to friends and family this holiday season with 12-card packs of beautiful cards and blank envelopes! We have several card designs available through our gift guide to delight everyone, to celebrate whichever holiday you observe. All proceeds from your purchase will fund groundbreaking research and a national support system that makes a real difference for people affected by cancer.
Interested in finding more memorable and meaningful gift ideas? Check out our full CCS Gift Catalogue at cancer.ca/gifts