Check out this delicious meatless recipe!
2 min. read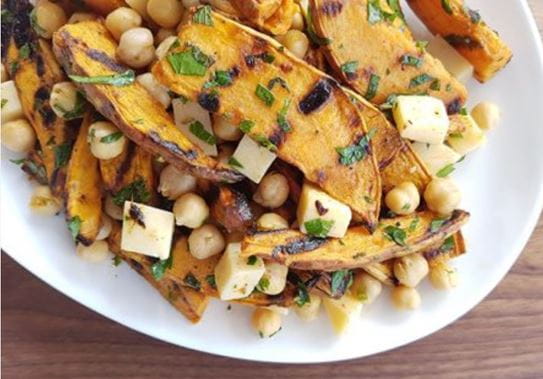 Did you know that eating red and processed meat increases your risk of colorectal cancer? The Canadian Cancer Society (CCS) recommends limiting red meat to three servings per week and avoiding processed meat.
Red meat includes beef, pork, lamb, veal or goat. Processed meat is any meat preserved by smoking, curing or salting or by adding preservatives (think ham, bacon, hot dogs or sausages).
There are lots of ways you can reduce how much red and processed meat you eat:
Switch out red meat for poultry or fish more often, and make up the rest of your meal with vegetables and healthy grains.

Save processed meat for special occasions. You could save hot dogs for baseball games and occasional barbeques and smoked hams for holiday dinners instead of making them part of your regular diet.

Make at least one meatless dinner each week, like our recipe for this protein-packed salad below!
Grilled sweet potato and chickpea salad
A little sweet, a little savory and a little spicy. This salad packs a protein punch! The perfect main dish for warm summer days.
Yield: 4–6 servings
Prep time: 15 minutes
Cook time: 10 minutes
INGREDIENTS: @(Model.HeadingTag)>
2 sweet potatoes, scrubbed (about 1 1/4 lbs)
3 tbsp canola oil, divided
1/2 tsp chili powder
1/4 tsp salt
1 can (19 oz) chickpeas, drained and rinsed (unsalted)
2 tbsp white wine vinegar
2 tbsp parsley fresh, chopped
2 tbsp mint or basil, chopped
1/4 cup gouda cheese, diced
INSTRUCTIONS: @(Model.HeadingTag)>
Cut sweet potatoes in half crosswise then in half again lengthwise. Cut each into thin wedges and place in a large bowl. Toss with 2 tbsp (30 mL) of the oil, chili powder and salt. Place on greased grill over medium heat and grill, turning occasionally for about 10 minutes or until lightly charred and tender. Return to bowl and add chickpeas.
In a small bowl, whisk together remaining 1 tbsp (15 mL) of oil and vinegar. Drizzle over potato mixture and add parsley, basil and cheese. Toss well to combine.
TIPS & NOTES: @(Model.HeadingTag)>
Tip: For a chunky version of the salad, chop the grilled sweet potatoes and toss with chickpeas
This recipe is courtesy of Half Your Plate.