Cancer survivors, Judie and Jim Edgar, raised funds and built a space outdoors for Canadians affected by cancer.
2 min. read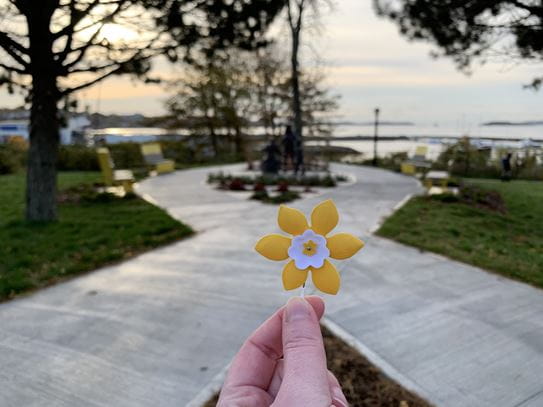 After moving from Ontario back to Dartmouth, NS, cancer survivor Judie Edgar started to miss the two cancer survivors gardens that she used to visit regularly.
For four years after her second experience with cancer, Judie continued to remember these spaces where she had spent so much time reflecting on her journey. It was only when her husband, Jim, was diagnosed with cancer in 2017 did she have her "ah hah!" moment, and the couple embarked on a mission to raise funds and build a survivors garden on the Dartmouth waterfront overlooking the harbour.
After fundraising more than $75,000, which included financial support from the Province of Nova Scotia, Halifax Regional councillors and CN Rail, attending over 60 meetings including all three levels of government and community leaders in 2018 alone. The building process started with the hiring of Xcel Landscaping Contractors and Outside Planning and Design Landscape Architects, and the Cancer Survivors Daffodil Garden was officially opened in September 2020 by the Lieutenant Governor of Nova Scotia, His Honour Arthur J. LeBlanc, with invited dignitaries and guests following strict COVID-19 protocols. It was so humbling for the Edgars seeing this dream come to fruition, especially in 2020.
"Jim and I have a definition of a 'cancer survivor' that is a little different than how others might define it," says Judie. "We believe that a cancer survivor is not only the person who has received a diagnosis, but the people that walk their cancer journey beside them, such as their family, friends, co-workers, and medical team."
In the garden – the first of its kind in Atlantic Canada – visitors are able to sit on custom yellow benches and chairs with inspirational quotes and common sense guidelines etched into the backs of them along a ribbon-shaped walkway featuring the "Path to Recovery" and "Positive Attitude Way." At the centre of the garden is an artistic feature of three people, all at different stages of life, signifying that cancer can affect any person, of any age.
"We feel that if there's anything in life that is an equalizer, it's cancer," says Judie. "I am constantly amazed at how cancer connects people."
Since its opening, Judie says that she's already been contacted by people affected by cancer whose first stop after finishing treatment is the garden. Looking ahead, she's looking forward to seeing the 6,800 daffodils that were planted by volunteers last October bloom this spring.
"I can't express enough thanks for what the Canadian Cancer Society has done in supporting this project," says Judie. "With nearly 1 in 2 people being diagnosed with cancer in our lifetimes, we are pleased to be able to offer a place for them to relax and reflect."