A young mom shares how CancerConnection.ca provided her an empowering support system throughout her cancer journey.
1 min. read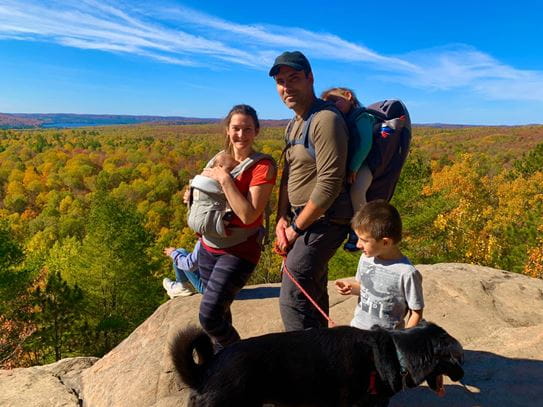 Navigating a cancer diagnosis at any time can be incredibly challenging, but for people hearing the words "you have cancer" during the COVID-19 pandemic, the Canadian Cancer Society's (CCS) support services are especially critical.
An active mom to three young children, 35-year-old Alexis Juliao felt shocked when she was diagnosed with Stage I colon cancer in April 2020. Being diagnosed and treated for cancer during the pandemic, Alexis knows more than ever the importance of cultivating community through virtual support programs.
"Virtual programs are very important, if not possibly more important, because during the pandemic there is no other option," says Alexis. "For people with cancer who live on their own and may be feeling alone and isolated in quarantine, virtual support programs allow for a sense of comfort, community and connection that may not be possible in-person.
Interested in connecting with people from the cancer community, Alexis joined CancerConnection.ca—a free, 24/7 online community that brings together people with cancer and their caregivers, creating a space to ask questions, receive support and share experiences.
"CancerConnection.ca has been invaluable to me during my cancer experience," says Alexis. "There is always someone there to offer support, advice, or just listen— people continue to check in and share practical tips, such as what to prepare before going to the hospital and what to expect after going through surgery, which is invaluable when you're going through the unexpected."
If you, or someone you care about has been diagnosed with cancer, we're here to help you, throughout the COVID-19 pandemic and beyond.
To learn more about our virtual support services like CancerConnection.ca visit cancer.ca.