Add a "spring" to your step with this delicious chocolate dessert!
1 min. read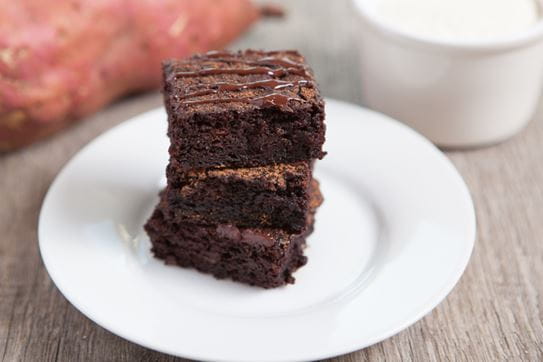 Celebrate the end of winter by enjoying this easy dessert! These chocolate sweet potato bars are so decadent, they will add a "spring" to your step!
Chewy and rich like traditional brownies, these vegetable-enriched bars are perfect to pack in a lunch or enjoy with an afternoon tea or coffee. Leftover mashed sweet potato is also a perfect substitute in this recipe.
INGREDIENTS: @(Model.HeadingTag)>
1 sweet potato chopped, (about 2 cups/500 mL)
4 oz bittersweet chocolate, finely chopped
1/3 cup butter, melted
1 tsp vanilla
1/2 cup whole wheat flour
1/3 cup unsweetened cocoa powder
1/2 tsp baking powder
1/3 cup packed brown sugar
2 eggs
pinch salt
INSTRUCTIONS @(Model.HeadingTag)>
Place sweet potato in microwaveable bowl with 1/4 cup (60 mL) of water. Cover and microwave on high for 5 minutes or until very tender. Drain water and mash. Whisk in chocolate until melted. Whisk in sugar and eggs, one at a time, butter and vanilla.
In a bowl, whisk together flour, cocoa powder, baking powder and salt. Stir into potato mixture until smooth. Spread into an 8 inch (1.5 L) parchment paper lined baking pan. Bake in preheated 350 F (180 C) oven for about 20 minutes or until tester inserted in centre comes out with a few moist crumbs. Let cool slightly before cutting into bars.
TIPS & NOTES:  @(Model.HeadingTag)>
Tip: For a chunky version of the salad, chop the grilled sweet potatoes and toss with chickpeas
This recipe is courtesy of Half Your Plate.