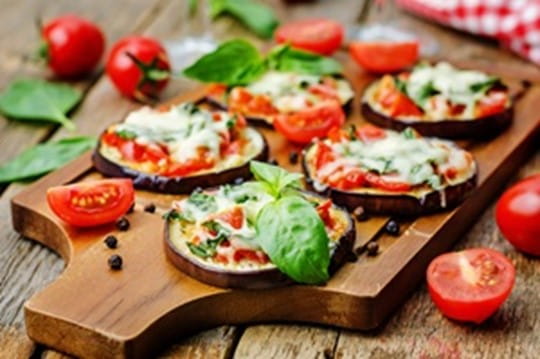 This alternative to the classic bruschetta recipe opts for eggplant instead of bread and makes a great appetizer or main dish to share with your household. Topped with tomatoes, garlic and parsley, this flavourful dish will even pair well alongside a Dry Feb-inspired mocktail.
Prep Time: 10 minutes
Cook Time: 40 minutes
Servings: 6-8
Ingredients
Eggplant
2 medium eggplants sliced into 1-inch rounds
1 tbsp olive oil
Salt and pepper to taste
Bruschetta
5 roma tomatoes diced
1 tbsp balsamic vinegar
4 tbsp olive oil
1 garlic clove minced
2 finely chopped green onions
3 tbsp finely chopped fresh parsley
Salt and pepper to taste
4 tbsp feta cheese (optional)
Instructions:
Preheat oven to 425F, coat parchment lined baking sheet with olive oil.
Arrange eggplant on sheet and flip to evenly coat with olive oil. Sprinkle salt and pepper and roast for 15-20 minutes.
Once time has elapsed flip and season, return to oven for an additional 10 minutes.
While the eggplant is cooking, make the bruschetta. Combine diced tomatoes, garlic, parsley, balsamic, olive oil, salt and pepper.
Top eggplant with mixture and a bit of crumbled feta for garnish and serve immediately. Eggplant can get soggy so make sure you don't let it sit too long!
Tips:
You can also serve this tasty bruschetta on toasted bread or any roasted veggies of your choice.
Afraid of soggy eggplant? Before cooking, spread the rounds out on a paper towel and salt generously. Let it sit for about 30-40 minutes then rinse thoroughly.
This recipe is courtesy of Half Your Plate.