Meet Lamby McGuire, a CIBC Run for the Cure participant living with metastatic breast cancer.
2 min. read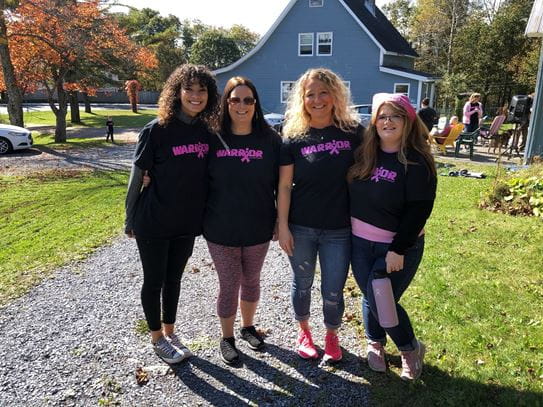 Lamby McGuire does not let her stage 4 breast cancer define her. She lives her life to the fullest, embodying her motto to 'never give up.'
For more than a decade now, Lamby has been an avid participant in the Canadian Cancer Society CIBC Run for the Cure. As the largest single-day, volunteer-led event in Canada in support of the breast cancer cause, she joins a collective of Canadians dedicated to changing the future of breast cancer.
In 2017, Lamby was diagnosed with metastatic breast cancer, an incurable cancer that spreads to other parts of the body. After a series of appointments and scans, Lamby discovered the cancer had metastasized in her bones.
"It was devastating to hear, but it has been 4 and a half years, I've chosen to face the diagnosis head on, and treat every day as a blessing" says Lamby, who lives in Saint John, New Brunswick. "For me, there is no cure, or remission, only treatment. I live my life in 4-month increments, as that is how often I have my scans, and so far I've been very fortunate that my treatment plan has kept me stable."
For Lamby and thousands of others, the Run provides hope that together we can change the future of breast cancer. In its 30th year, the inspirational event raises significant funds for the Canadian Cancer Society, the largest national charitable funder of breast cancer research in Canada.
Lamby first joined the Run with a workplace team and then participated with a friend facing breast cancer. After her own diagnosis, she created Lamby's Army, a team made up of her friends and family from across the country.
"One of my favourite Run memories is with my daughter. She was only 16 when I was diagnosed," says Lamby. "The first year I participated with my team, we crossed the finish line side-by-side. It was a very special moment."
With the help of thousands of supporters like Lamby and her team, the Run has raised more than $471 million for the breast cancer cause. These funds go towards research and advocacy, improving outcomes, and saving lives – all while supporting people at every stage of their breast cancer journey.
"The funds my team raise directly support metastatic breast cancer research," says Lamby, who also shared her inspirational story at last year's Virtual Run. "If I can help even just one person in their journey, then I've done my job."
Join Canadians on Sunday, October 3, for this year's Canadian Cancer Society CIBC Run for the Cure. Your participation will help make a difference in the lives of people like Lamby, living with and beyond breast cancer.
Run or walk your way on October 3. Visit cibcrunforthecure.com to register or donate.