Read why RCMP Sergeant Holly Lavin has devoted years of service to support Cops for Cancer.
2 min. read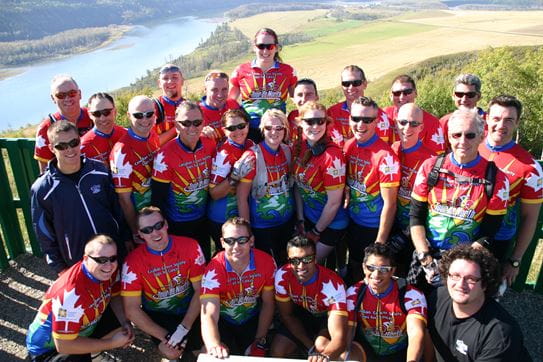 In 2009, Sergeant Holly Lavin first signed-up to become a rider for Tour De North in support of Cops for Cancer. An officer with the North District RCMP from Prince George, British Columbia, Holly was inspired to cycle in the annual fundraiser because she had known families whose children had been diagnosed with cancer.
"As a parent, I was incredibly lucky that my child had been born healthy. No child should have to deal with cancer, and no family should feel that they have to face it alone," says Holly. "I wanted to ride on behalf of children and parents that wouldn't be able to make the trek on their own and raise funds that would provide support to families affected by cancer in our community."
Immensely passionate and committed to the cause, Holly continued to participate in Cops for Cancer as a rider in 2010, 2013 and 2014. In 2010, Holly also joined the Tour De North committee as a volunteer to ensure that other riders would have the support that they needed to be successful. She has filled many roles on the committee over the years, such as managing rider applications, providing training mentorship, encouraging fundraising, and promoting Cops for Cancer within the RCMP.
Holly is a steadfast member of the Cops for Cancer committee, and it's her strength of character and determination to help others that has made Cops for Cancer a success. No matter what she is faced with, Holly continues to give back by volunteering her time and by sharing her generosity, compassion and spirit with others.
"Fundraisers like Cops for Cancer help to make a positive difference in the lives of Canadians at all stages of their cancer journey," says Holly. "For people who are thinking of becoming a CCS volunteer, I'd say go for it and don't look back! Your time will be appreciated more than you would ever know."
Cops for Cancer is an annual fundraiser where law enforcement and emergency services personnel cycle across communities in British Columbia and Ontario to raise funds for childhood cancer research and support services. Thanks to dedicated and driven volunteers like Holly, the Canadian Cancer Society has been able to invest more than $35 million towards childhood cancer research over the last decade.
Together, our volunteers are championing the cancer cause today and changing the future of cancer tomorrow. Interested in becoming a CCS volunteer? Click here to discover volunteer opportunities within your community.