For Sabrina Shong and her son Kyler Moore, camp provides a safe space to have fun and an empowering community that understands their cancer journey.
2 min. read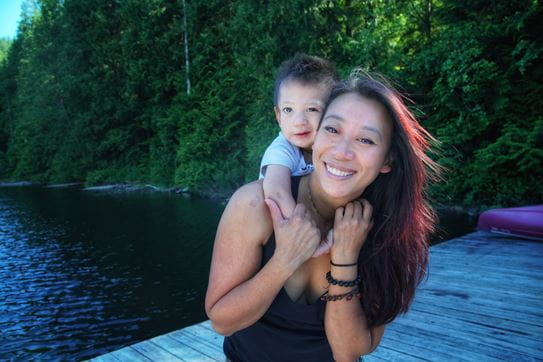 On October 5, 2016, Sabrina Shong gave birth to her son Kyler Moore by emergency C-Section, with a large mass obstructing his breathing. At one-month-old, he had his first surgery to remove the tumour and, a week later, could breathe on his own. Shortly after surgery, the tumour grew back, and Kyler was diagnosed with germ cell cancer at just a couple of months old.
Kyler was transferred to the oncology department for several chemotherapy treatments, following several surgeries and additional rounds of chemotherapy. One thing that helped Sabrina through that difficult time was talking to other parents over coffee at the BC Children's Hospital who were going through the same thing. Through one of these parents, Sabrina heard about Camp Goodtimes.
Camp Goodtimes is an essential program for the Canadian Cancer Society that gives families in British Columbia and Atlantic Canada who have or have had a child diagnosed with cancer opportunities to relax, have fun and enjoy nature in a stress-free and medically supervised environment. Sabrina and Kyler attended their first camp in 2017 when Kyler was one-and-a-half years old, and have returned to camp each year since.
"We didn't do a lot of normal stuff because Kyler was getting his chemotherapy treatment," says Sabrina. "So, it was nice to have a safe space just to let him be a kid and play in the dirt, without being afraid. There were always medical staff and volunteers around, and they made me feel like no matter what, it's going to be OK."
For Sabrina, Camp Goodtimes is a safe and supportive space that not only enables Kyler to safely play with children his age, but also connects her with an empowering community that understands what she's going through.
"It was so great for Kyler, but it was also important for me." Sabrina continued. "I really needed to meet people because I felt so alone, but at Camp Goodtimes, I met other families, and it was wonderful to share my experience with people who get it."
Sabrina and Kyler had the opportunity to attend one of the first Goodtimes Getaways, a camp designed in response to the COVID-19 pandemic to allow families to enjoy the outdoors, and participate in recreational activities at their own pace in a safe, facilitated environment.
"It was the break we didn't know we needed," says Sabrina. "We were able to do activities at our own pace and everything felt safe and easy. It was the perfect transition for us, as we're not quite ready to join the world yet."
Thanks to the ongoing support of generous donors, partners and volunteers, we can continue to provide fun-filled summer activities and unforgettable experiences for families affected by cancer. For Childhood Cancer Awareness Month this September, help give children with cancer memories to last a lifetime by purchasing a Gift of Camp Essentials.