Transforming prostate cancer care
2 min. read
An estimated 64 Canadians are diagnosed with prostate cancer every day. With better ways to detect and treat the disease developed over the last 20 years, nearly 100% of people will survive if the disease is detected in its early stages. Unfortunately, that is not always the case and when the disease is caught late, only about 1 in 4 will survive.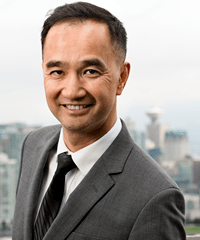 Prostate cancer feeds on testosterone, a male hormone, to grow. In the last two decades, scientists have developed drugs that can either stop the body from producing testosterone or block testosterone from reaching cancer cells – cutting off the cancer's supply of the fuel it uses to grow. These drugs, called hormone therapy or androgen deprivation therapy, have been used for many years. But in the last 20 years, a new generation of hormone therapy drugs became available, becoming game-changers in helping people live longer. One of the big questions for doctors now: is there a particular order that these new drugs should be administered to most benefit patients?

That's exactly what Drs Kim Chi and Daniel Khalaf set out to answer. In a recent clinical trial, they enrolled 202 Canadians who were recently diagnosed with prostate cancer that had spread and no longer responded to first-line hormone therapy, which is also called metastatic castration-resistant prostate cancer or mCRPC. Through the trial, they uncovered the treatment plan that allows those with mCRPC to live longer. The trial tested 2 drugs already widely used to treat metastatic prostate cancer – which means doctors can start treating people with mCRPC this way, giving them more time right now.

The researchers found an effective way to sequence these drugs that helped doctors delay the time it took for participants' cancer to progress – by an average of 4 months. Those extra months will give people facing mCRPC more time to spend with their loved ones while researchers continue to develop new treatments and find new ways to help these men live longer, fuller lives.

"We're very pleased that this study will be able to change practice right away," says Dr. Chi. "Sequencing of these two hormone therapies is very commonly practiced but we hadn't yet learned the optimal sequence. We discovered that patients receiving abiraterone acetate first, with enzalutamide given afterwards, was better than the opposite sequence."

This groundbreaking clinical trial was jointly-funded by: BC Cancer Foundation, Canadian Cancer Society, Jane and Aatos Erkko Foundation, Movember, (former) Prostate Cancer Canada, Prostate Cancer Foundation, Terry Fox New Frontiers Program, Janssen and Astellas. Together with our partners, we are a force-for-life in the face of cancer.