By Rob Cunningham, Senior Policy Analyst, Canadian Cancer Society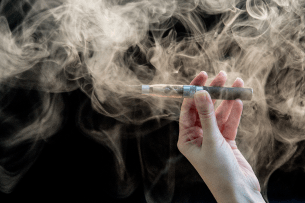 The same industry that hooked Canadians on smoking is back at it. This time, it's e-cigarettes that have members of our youngest generation addicted to nicotine, putting them at increased risk of becoming smokers.
While e-cigarettes were intended to help adult smokers who have been unable to quit, studies show that the number of youth using e-cigarettes is rising dramatically.
Troubling data released last June saw a 74% increase in vaping among 16-19 year-olds in Canada, from 2017 to 2018. More concerning still, the Canadian Student Tobacco, Alcohol and Drugs Survey for 2018-19 found e-cigarette use among Canadian high school students has doubled over two years and tripled over four years.
At the Canadian Cancer Society (CCS), we know that we simply can't afford another generation of Canadians addicted to nicotine.
That's why CCS is calling for immediate action from federal and provincial governments to reduce youth e-cigarette use. Comprehensive action is needed, including measures regarding advertising, flavours, maximum nicotine levels, taxation, sales in specialty vape stores only, and minimum age 21 for tobacco and e-cigarettes.
For many years now, CCS has been advocating for advancements in e-cigarette legislation Canada-wide. And we've made significant progress. For example, as of February 2020, 11 provinces and territories have adopted e-cigarette legislation banning sales to minors, prohibiting e-cigarette use in workplaces/public places where smoking is banned, prohibiting e-cigarette sales in places where tobacco sales are banned, and restricting signage and banning visible product displays in retail stores (with exceptions for specialty vape stores).
Governments are increasingly going further. New federal regulations restricting advertising are pending, and some provinces have provincial ad restrictions. Nova Scotia is banning flavours in all e-cigarettes (except tobacco flavour) as of April 1, and PEI has proposed similar regulations. On March 1, PEI became the first province to implement minimum age 21 for tobacco and e-cigarettes, and to require e-cigarette sales in specialty stores only. BC and Ontario will ban most flavoured e-cigarettes from convenience stores and gas stations. BC, Alberta and Nova Scotia are implementing e-cigarette taxes. A maximum nicotine concentration of 20 mg/ml is advancing in BC and Nova Scotia. The federal government is preparing regulations on nicotine levels and flavours.
While we've made progress, we know there is so much more to be done. We plan to continue working with governments to ensure we have strong protections in place to protect our youth.
If you'd like to learn more about youth vaping, please visit our website to learn more.