Rethinking support during COVID 19
1 min. read
When COVID-19 entered our lives and changed our world, the Canadian Cancer Society (CCS) had to quickly adapt many programs and services to help women with breast cancer deal with a complicated, new health landscape.

In addition to dealing with the challenges of breast cancer, women must now contend with cancelled surgeries, delays in treatment, concerns about the virus and their health, and increased anxiety and isolation.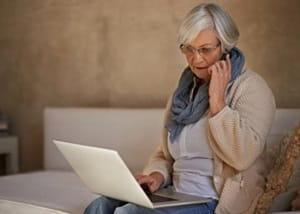 Thanks to your amazing support, we were able to address this "new normal" and ramp up our digital- and phone-based services that women can access from the safety of their homes.
Recognizing the need for information specifically related to the global health pandemic, CCS created a series of webinars to support people with cancer during COVID-19. Each webinar is presented by an expert and addresses a central question about managing cancer during this time.
We are helping to connect people through CancerConnection.ca, an online community where Canadians can join a caring and compassionate group of people who are affected by cancer during COVID-19.
We remain available through phone or live chat to answer questions about cancer and help with any concerns people have about COVID-19.
Thank you for helping to make these and other services possible. Your generosity means we can be there to support women with breast cancer whenever they need us.