Following public health guidelines, the Canadian Cancer Society put several new procedures in place to protect lodge guests and staff in wake of the pandemic.
1 min. read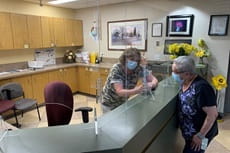 People who must travel away from their homes for cancer treatment will once again be able to rely on the comfort and support of CCS lodges.

Our lodges, which temporarily closed at the start of the pandemic, reopened in early July with precautions in place to protect lodge guests and staff.

"While it was heartbreaking to have to close our lodges for that short period of time, there is no question this was the best choice," says Carol-Ann Oster, Manager of the Halifax Lodge. "It allowed us to ensure that we had all the proper safety precautions and protocols in place."

Following public health guidelines, CCS put several new procedures in place, including the following:

We are providing Personal Protective Equipment (PPE) and thermometers for guests and staff.
Plexiglass barriers were installed in reception areas and throughout the lodges.
We introduced enhanced cleaning and sanitation protocols.
We changed our shared rooms to private rooms.
We renovated entrances with a buzzer system to allow for thorough screening before entry
We enhanced food safety measures by eliminating buffet-style meals and ensuring all meals and snacks are wrapped and served individually.
"I think everyone feels safe and secure knowing we work so diligently to control access to the building, practice stringent hygiene measures, and ensure the daily health of everyone within the Lodge," says Carol-Ann.
Travelling to a distant location for cancer treatment can be extremely stressful, but during the pandemic it can be overwhelming. Thanks to your amazing support, we are able to continue to support people with a safe and secure home-away-from-home when they need it most.