The Canadian Cancer Society encourages Canadians to access its free support services from home, by phone and computer, and share them with others.
2 min. read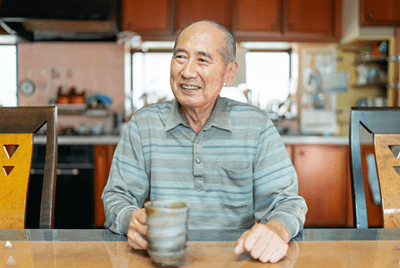 Cancer doesn't stop being a life-changing and life-threatening disease in the middle of a global health crisis. The impact of COVID-19 has led to a quickly changing environment and our government and healthcare leaders are making difficult decisions to ensure there is capacity nationwide to support those who are affected by the virus.
This means that people with cancer are relying on a healthcare system that, right now, must turn them away by rescheduling treatment appointments and postponing surgeries. As a high-risk population, people with cancer may be struggling or feeling anxious and isolated while not being able to come within 2 meters of the family and friends that make up their emotional support system.
"The immediate impact of COVID-19 on cancer patients is easy to understand but the long-term impacts will be also be difficult," says Laura Burnett, Vice President, Cancer Information and Support Services. "We are hearing of people with cancer whose surgeries have been cancelled, treatments postponed and tests delayed, who are worried about being left behind because of COVID-19."
As the entire world grapples with this pandemic, the Canadian Cancer Society (CCS) is here to help.
Now more than ever, our digital and phone support programs are critical to the people we serve, providing information and reducing anxiety and feelings of isolation. We have also taken added precautions, changing or suspending many of our in-person support programs given the people who we serve are at an increased risk.
We encourage Canadians to access our free support services from home, by phone and computer, and share them with others:
Should you feel alone and need support, CCS continues to offer a compassionate support system, with virtual services that you can turn to, whenever you need them. We are offering live phone support through our Cancer Information Helpline, a toll-free service for people who have questions about cancer.
Our online community, cancerconnection.ca, continues to be available to help people with cancer and their caregivers build community and connection.
Our trusted health information can be found on cancer.ca, which can help people better manage life with cancer and answer questions they may have.
To help offer support and information to people with cancer and their caregivers during the pandemic, we have also launched COVID-19 and Cancer webinar series. The series features expert presenters discussing the most important topics impacting people with cancer and caregivers during the pandemic.
For details about what is available in your community, please call our toll-free helpline at 1-888-939-3333.
Canadians can show their support for people with cancer by donating to the COVID-19 Emergency Fund, which will allow CCS to expand access to phone-based and online support programs. Donations to this fund will help people with cancer and caregivers to cope during and after the pandemic.