November is Hockey Fights Cancer Month, and the NHL and NHLPA, players, coaches and fans are uniting to support people with cancer
3 min. read
November is Hockey Fights Cancer Month, and across the National Hockey League (NHL) and National Hockey League Player's Association (NHLPA), players, coaches and fans are uniting to support people with cancer and their families by raising awareness and fundraising for the cancer cause.

While the 2019-20 hockey season looked quite different this year due to the COVID-19 pandemic, CCS knows that cancer has no off-season. With more than one million Canadians currently living with and beyond cancer, it is more important than ever to support people in need and raise funds for programs and services that encourage a better quality of life for people living with cancer and their loved ones.

This year, the NHL is sharing stories on social media about iconic players and their families, each of whom have been on their own cancer journey: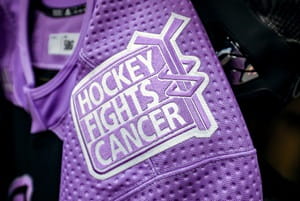 In 2019, Toronto-born Dale Hawerchuk announced that he would be taking a leave of absence from coaching the Ontario Hockey League's (OHL) Barrie Colts for health reasons. A 16-year NHL Hall of Fame player and active coach of nine years, Hawerchuk revealed that he had stomach cancer. He completed a course of chemotherapy in April 2020, but sadly died on August 18, 2020 at 57 years old. Hawerchuk was an inspiring mentor within the hockey community who impacted the lives of current and former players of the Winnipeg Jets, Buffalo Sabres and Barrie Colts.
Former NHL defenceman and Kitchener-Ontario native, Kyle Quincey and his wife Rachel had their lives change forever in March 2020, when their son Axl was diagnosed with brain cancer. Axl received his diagnosis two days before his first birthday and remained at the Children's Hospital of Philadelphia for 16 days after undergoing an over 22-hour surgery on June 9, 2020. The hockey community have rallied around Quincey and his family to provide a support system when they need it most. Former Detroit Red Wings teammates recently supported a fundraiser in honour of Axl, and goalie Brian Elliot of the Philadelphia Flyers even offered his home in Philadelphia for Rachel Quincey, Axl and their other son Stone to stay in during Axl's treatments.

In an emotional article for the Players Tribune in 2019, Vegas Golden Knights defenceman Shea Theodore revealed he was diagnosed with Stage I testicular cancer. He learned about his diagnosis shortly after returning home from claiming a silver medal with Canada at the 2019 World Championships. The 24-year-old was cancer-free and made a full recovery three months later after undergoing surgery. Theodore hopes that sharing his story will showcase the importance of early detection and spread awareness to other young men.

More than six months after being diagnosed with Ewing's Sarcoma, a rare form of bone cancer, Philadelphia Flyers forward Oskar Lindblom completed his final chemotherapy treatment in July 2020. After undergoing major surgery, and navigating cancer during a global pandemic, Lindblom was finally able to return to play in the 2020 playoffs. According to Lindblom, his family support system gave him the strength to complete his treatments during the pandemic and make a full recovery.
We may cheer for different hockey teams, but together, we can be a force-for-life in the face of cancer. Give the hockey lover in your life the Gift of an Assist, and purchase your gift at
cancer.ca/gifts
.