When Pat Hartley, a retired nurse, was diagnosed with breast cancer, she turned to the Canadian Cancer Society's Cancer Information Helpline for information and support.
1 min. read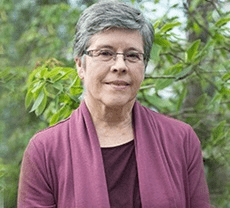 Pat Hartley, a retired nurse, saw many people with breast cancer during her long career. But when she received her own breast cancer diagnosis at age 65, she didn't know where to turn.
"It didn't matter how much experience and knowledge I had about cancer," says Pat. "I was in shock."
Pat was told she'd require a lumpectomy or mastectomy with or without breast reconstruction – and she was given a huge package of information filled with medical terms and statistics.
Thankfully, while looking through the material she found the phone number of the Canadian Cancer Society (CCS) and called our Cancer Information Helpline (1-888-939-3333). The helpline, staffed by trained cancer information specialists, offers information and support to people like Pat during their cancer journeys.
Pat spoke to a specialist who put her in touch with others who had to make the same types of decisions about surgery.
"They were incredibly helpful, and they made my decision so much easier," says Pat, who decided to volunteer her own time to CCS a year after her surgery.
The experienced and compassionate team who staff our national Cancer Information Helpline works diligently to help thousands of people like Pat every year. And, during COVID-19, they are working overtime to provide support to more and more people who are looking for answers during a difficult time.
Thanks to your generosity, people like Pat have a place to reach out for support when they need it most.